Still waiting for the day when the people in power would try to make a difference, instead of trying to shake the ground around them while they try to abuse their power. Many instances have been reported where the lack of accountability leads people, especially men, to break the law. Unfortunately, a similar incident leads to the suspension of two traffic police officers in Lahore.
Police Officers Misbehave 
The lack of patience is the root cause of many problems in our society. The simplest things that can be addressed politely and decently turn out to be the biggest of hassles simply because either one or both parties can't properly deliver the argument. Ironically it also includes people who should be the ones practising them at the very least.
A traffic police warden and an assistant were suspended in Lahore for misbehaving with a family near Calvary ground. 
The warden stopped a women driver for not wearing a seat belt. As soon as they step out of the car, the warden hits the man accompanying the woman with the car door. He hit the man as he slammed the car door open. The video shows a woman talking to the warden, trying to calm him down. However, as soon as the women tried to intervene, the warden started misbehaving with the women. The warden kept pushing them both against the car until people began gathering, trying to resolve the matter.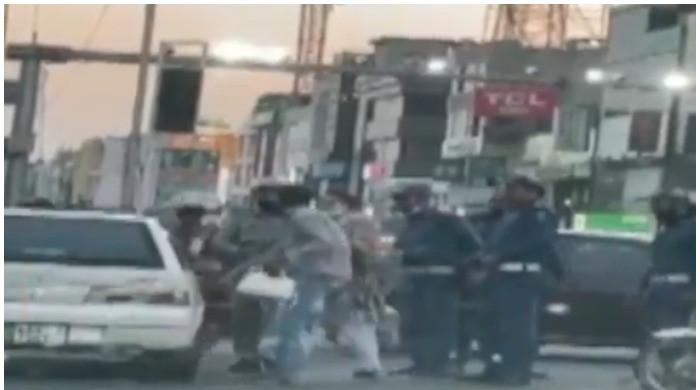 Lahore Chief Traffic Officer Muntazir Mehdi has suspended traffic assistant Munawar and traffic warden Shahid in light of the incident.
A Recent Incident 
The suspension of police officers is not something we have ever seen before. Previously, many such incidents have occurred where the officers are suspended or dismissed from their posts. A few weeks ago, a police officer was arrested after charges were filed against him for abusing a woman as he exposes himself in front of her.
He has been suspended, case registered against him and arrested on the orders of IG Punjab Inam Ghani. He will be dismissed from service and convicted too. What is a crime for others is a crime for a police officer too.

— Punjab Police Official (@OfficialDPRPP) July 30, 2021
However, the officer was soon arrested along with the decision of his dismissal from the force.
Stray tuned to Brandsynario for the latest news and updates.