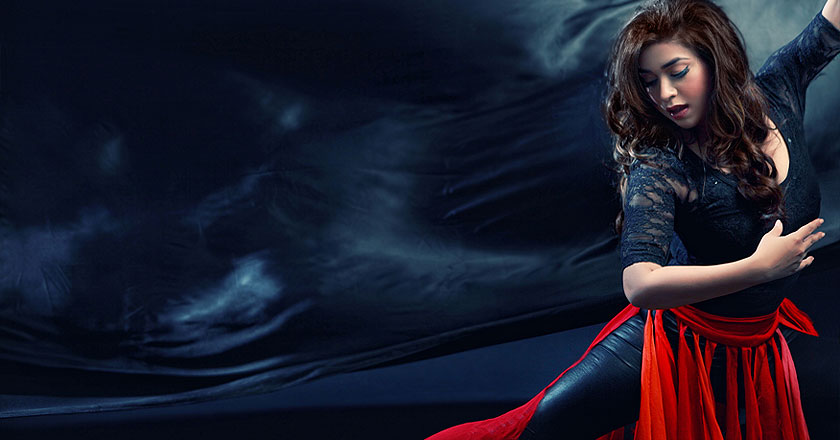 Komal Rizvi's latest single 'Tu Beh Gaya' was released worldwide on 14th February 2015, Valentine's Day and the video/audio launch took place on February 17th, at her residence.
The song had been beautifully depicted through a video directed by the very talented Azaan Sami Khan of One Motion Pictures, who has also produced Operation 021. When Azaan was briefed on the concept, he wanted it depicted in an abstract format that would challenge the viewers. The song revolves around a memory of unrequited love, a feeling almost all of us can relate to. At times we all go back and remember a person we fell in love whose fate ends up in nothing more than a beautiful memory that we lock into our minds. It resurfaces at times but at some point we need to break free of it and move on.
The video portrays this complex relationship through modern contemporary dance choreographed by Hasan Rizvi of Body Beat, who had pioneered dance and fitness in Pakistan. Ali Kazmi performs the role of her lost love who she remembers mournfully through flashbacks. The horse scenes are breath taking and depict the freedom she longs for from her memory. The video ends on a positive note with Komal riding a motorbike into the wilderness – she has finally unlocked the memory and let it go.
Mo Azmi has directed the photography beautifully and the styling has been done by BeenishPervaiz. Maheen Khan, one of the pioneers of fashion in Pakistan has styled the wardrobe for the video which represents two very distinct looks for Komalsignifying two different time periods.
Speaking about the experience of working on the song, Komal said,"This tune came up when I was randomly jamming in Mumbai with Saad Sultan. I liked the tune, and when Saad sent me a demo I fell in love with the song and decided to release it as a single. The song kept getting delayed as I was busy touring last year, but while in Australia I got in touch with Azaan and asked him if he would be interested in directing the video. Azaan came up with this amazing concept about lost love and moving on, which is depicted in an abstract way in the video. We decided to work with Ali Kazmi as he not only has great screen presence, but is also a phenomenal dancer which was very important for this video".
After the launch, Komal performed the song live which was greatly enjoyed by the audience. She mentioned that music is an integral part of her life and something she enjoys the most despite the fact that she has acted in dramas and hosted numerous television shows.
See the exclusive interview from Komal Rizvi:
See Komal Rizvi's all new avatar in the photoshoot here:
Watch the video for "Tu Beh Gaya" below: