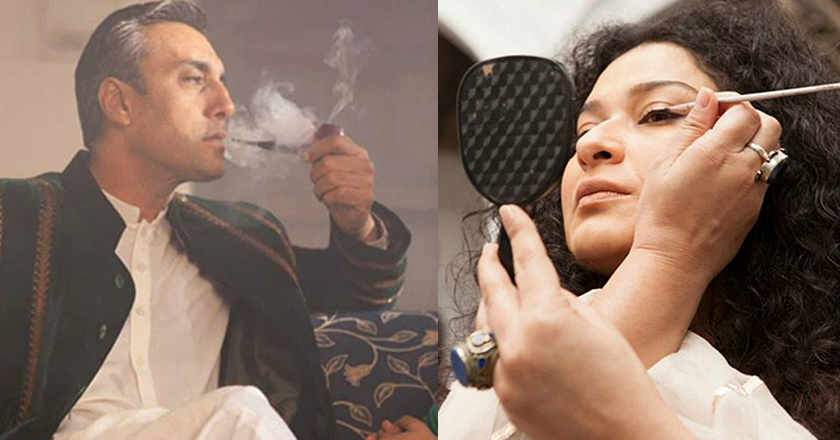 They say imitation is the sincerest form of flattery and so Ali Sethi, trained classical singer and Harvard graduate, released a revamped version of the legendary folk singer, Reshma's song Kithay Nain Na Jori, last week at Karachi Literature Festival.
The song serves as a tribute to the singing maestro, Reshma, starring veteran actors, Sania Saeed, Adnan Siddiqui and Mira Sethi, directed by the critically acclaimed director Sarmad Khoosat.
While Ali Sethi had produced an unofficial rendition of this song already, back in 2013, with pianist Tsivi Sharett and cellist Natalie Rosario, the demand for a studio version encouraged him to create a video song. Once the song was recomposed, he approached Sarmad Khoosat for direction, wishing for Adnan Siddiqui and Sania Saeed to come on board too. They all were more than thrilled to be a part of the project, as Ali said "Reshma ji's song is so powerful that today everyone is ready to do anything to bring it back."
Produced by Saad Sultan, the song is shot at the Wajid Ali Shah haveli in Lahore and depicts the story of a married couple, played by Adnan Siddiqui and Sania Saeed and the mistress, Mira Sethi. The song, while being in Punjabi, conveys a number of emotions, including love, hatred, jealousy, revenge, lust and loneliness, all beautifully and effectively. The performances by the stars is phenomenal, each doing justice to their own roles.
Direction by Sarmad Khoosat is as usual perfect to the tee, with the song delivering just the right balance between being a classic and being charming enough to keep everyone hooked till the end. Added to this is the spectacular wardrobe, the tasteful achkans and extravagant ghararas, by the fashion geniuses, Fahd Hussayn and Mehrunnisa from Nickie Nina.
The song features other prominent names such as cellist Ghulam Abbas, Asif Ali Goga on percussion, pianist Moon Anthony and guitarist Saad Sultan. Talking about working with the experts to pay tribute to the legend, Ali Seth said, "It has been a miraculous journey. All of us who have worked on the song have been touched by something really special. Everything – from the recording to finding the musicians and the shooting – came together in the end and it's because of our love for the song. The song belongs to Reshma ji."
Adnan Siddiqui was all praises for the singer, "I thought 'how can a Harvard graduate sing?' I was shocked by the way he was singing. The reason Sania, I and everyone else decided to do the song was because it is so great and has been beautifully sung."
Currently, the rising star, Ali Sethi is working on yet another tribute, a documentary on Pakistan's renowned ghazal singer, Farida Khannum.
Enjoy the song Kithay Nain Na Jori: