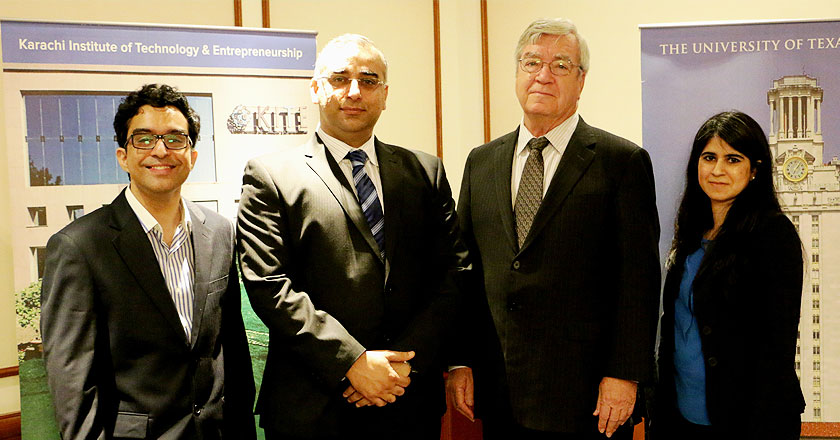 June 23rd, 2014 witnessed the achievement of yet another milestone in KITE's history, one that holds unlimited potential and promise.
An MoU was signed between Dr Robert A. Peterson, Director of the IC2 Institute at the University of Texas at Austin and Afaque Riaz Ahmed, Founding Chairperson of the Karachi Institute of Technology and Entrepreneurship (KITE).
IC2 Institute is the 'think and do' tank of the University of Texas at Austin ]and works to facilitate the creation of entrepreneurial wealth.  The centre has a global perspective and a special interest in developing countries. Partnering with KITE will ensure access to an economy with resources and a talented labour force.
In turn, KITE's students and faculty will receive significant international exposure, high-level training and access to international opportunities. Areas of collaboration include faculty training, access to UT Austin's vast incubation and acceleration programs, collaborative graduate-level degree programs and a potential of credits transfer arrangement. UT Austin will also facilitate the development of KITE's overall entrepreneurial ecosystem.
UT Austin is a name that stands for quality and innovation in the areas of technology and entrepreneurship. KITE's students will get the opportunity to learn from the very best in the area of study that they have chosen. KITE's faculty will get international exposure through joint training programs and students will have access to their vast network. They will also get a chance to be part of a rich international student community. Our students will have a competitive edge in international internships, job placements and exchange programs along with being able to  take unique courses, meet new people and get to experience campus life,all in the longhorn way!
Founded in 1977 as an experiment to test the importance of science and technology in economic development, the IC2 Institute is the 'think and do' tank of the University of Texas at Austin and works to facilitate the creation of entrepreneurial wealth. The programs under its umbrella provide strategic counseling, infrastructural support, training and applied economic research.The Institute links talent with markets for creation of wealth through technology entrepreneurship, benefits society with innovative solutions through social entrepreneurship and connects academia with  government and business leaders through civic entrepreneurship. The institute's goal lies in transforming and sustaining economies worldwide. It envisions equal opportunities to improve quality of life for all citizens.
The University of Texas at Austin, founded in 1883, boasts a rich cultural heritage and a current student body of 51,000. With 18 schools under its umbrella, the university was named by Princeton Review as one of the nation's 'Best Value Colleges' in 2012. It provides a unique learning opportunity for each individual in every imaginable area of study. UT Austin offers more than 170 undergraduate fields of study, 154 master's degrees and 86 doctoral programs. So you can just about study anything here, from geosciences and engineering to nursing and fine arts
Karachi Institute of Technology and Entrepreneurship (KITE) is an HEC recognized academic institute of higher learning currently offering BBA and BCS undergraduate degree programs.  It is an ecosystem that combines an interdisciplinary education withan entrepreneurial environment.  Rigorous personal development liesat the heart of the ecosystem, with each agent in the ecosystem, be it student, faculty member or manager, striving to realize his or her true potential.