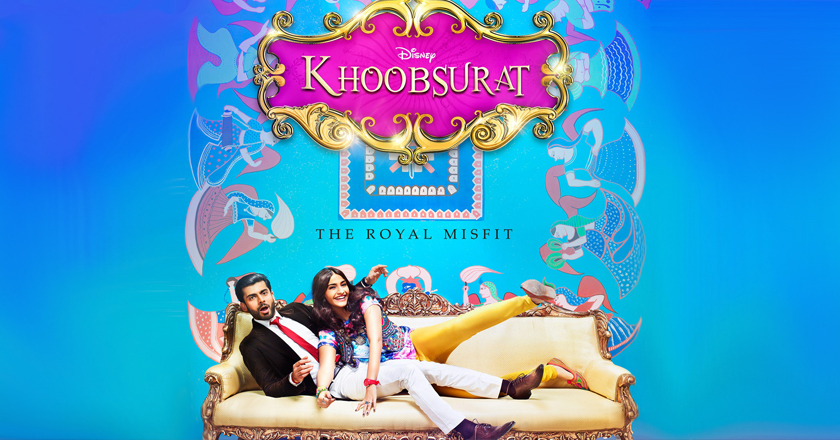 By Zenub Ayaz
Ratings (out of 5)
Story: 3/5
Acting: 2.5/5 (sonam: 1/5, Fawad Khan 4/5, Kiron Kherr 2/5, Ratna 4/5)
Direction: 3/5
Music: 4/5
Overall Ratings: 2.5/5
At last the cat is out of the basket and the much awaited Sonam Kapoor and Fawad Khan Starrer Khoobsurat is finally out!
The movie managed to create much hype with its funky music, Rajhistani influence and the fact that Khoobsurat is the first Indian Disney movie, elevated the anticipation to a whole new level.
Unfortunately, the expectation turned into disappointment as Khoobsurat, a remake of Rekha starrer 80s movie couldn't even come close old Indian Classic.  Based on the idea of living free without rules like the earlier version, the remake also displays two different lifestyles but fails to follow it as it turns into a young couple's love story as the cupid hits them with his arrow.
The movie is pleasant enough to watch with striking shots, average music and some decent performances by couple of actors but the list does not include Sonam Kapoor's name!
Sonam Kapoor aka Mili Chakravarty plays a physiotherapist by profession. The story starts when she arrives at the royal family of Rathores and notices the unsaid, unspoken competition of snobbery. The family has a grouchy wheel-chaired father, a stickler mom, a frustrated daughter and a busy son who is engaged to a big shot girl. 
Sonam, like a great and professional physiotherapist gets the daddy back on his feet, helps the clueless princess get a grip of her life and MOST importantly ends up kissing the prince, breaking his engagement with Aditi Rao – Kiara.
Sonam, who has tried really hard to be a bubbly, clumsy and middle class, loud Delhi- girl but unfortunately has botched miserably. The Diva did her best in showing off every piece of cloth she ever bought and if that wasn't enough, her over the edge acting made the movie quite unbearable to watch at certain times. 
Fawad Khan, on the contrary, has done his best at playing the Royal Prince Vikramaditya Rathore. The hunk looks to-die-for charming under his sharp suits, with his controlled and underplayed performance as he portrays the role of Vikram, Fawad has managed to impress the audience and claim applause from all critiques across the border.
Other than the lead characters, Ratna Pathak, who plays Fawad's mother, has tried her best to fill in as a strict mother but in some way it looks kind of similar to her role in Jaane Tu Ya Jaane Na.
On the other hand Kirron Kher needs to start developing new roles, for the past few movies she has not played a Punjabi mom, but has only copy pasted her past performances.  Also, Aditi Rao Hydari has a blink and miss role. ?
Khoobsurat starts on a fresh and promising note but turns into a confusing muddle as the cast and audience loose the actual purpose of the movie.
Regardless of its fallback, Khoobsurat could be called a one-time watch if you're a Fawad Khan fan or want to see Sonam Kapoor literally come out of screen with her louder than required acting.