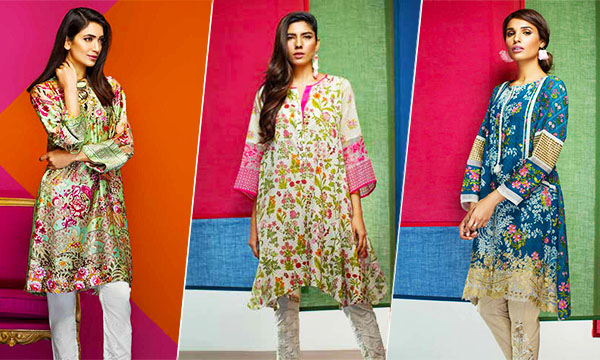 Many breathed a sigh of relief when 2016 ended. And 2017 is expected to be a better more positive year. Whether you believe the above statement or not, you have to admit the fashion scene in Pakistan has never looked this good. We keep on seeing our local brands getting better with appreciation pouring in from across the world. Khaadi is one such brand.
A clear favorite for most women in Pakistan, Khaadi is said to be a brand that made women embrace bold prints and colors with open arms. The trendy cuts and designs were introduced by them and brought on a revolutionizing change in the style for most. In 2017, Khaadi is once more delighting its loyal fan base as well as attracting new clientele. The upcoming Khaadi Pret Spring/Summer Collection 2017 is promising to once more offer the ladies a style guide to looking their absolute best.
The new collection has something for everyone, from teens who are currently experimenting with their style, to the elegant ladies who have perfected theirs. Let's break down and analyze what Khaadi is offering with its Spring Summer 2017 collection.
Casual wear
The casual wear features an eclectic mix of colors and designs that give off a very ethnic vibe. The embroidery, print and colors are hip and vibrant, perfect for young women who are looking for outfits to wear to college or a workplace. Mix in a few accessories like bags and jewellery and you know you are dressed for success.
Traditional ethnic prints aren't the only designs available in this collection. If your style a bit edgier, try this combination of geometric print with florals.
Of course spring, summer isn't complete without florals. Sure it has been done to death but we can never fully say goodbye to florals. The ones available from Khaadi however, are mixed with bold reds and blues, and just the right thing for a fun lunch out with just the girls.
Lighten up your environment and mood with neons! Whoever said neon doesn't suit South Asian skin tone didn't take Khaadi into consideration. Check out these gorgeous designs.
Semi-formals
Khaadi pret Semi formal line makes use of lots of satin and lace, giving off an elegant and luxurious feel. The collection has a number of different prints that you can make use at dinner parties, family gatherings etc. Take a look.
New Product range
Khaadi's new product range includes trendy footwear and pants, from formal garara pants to lace ones. You can also find embroidered tights and loose straight pants to pair with different outfits.