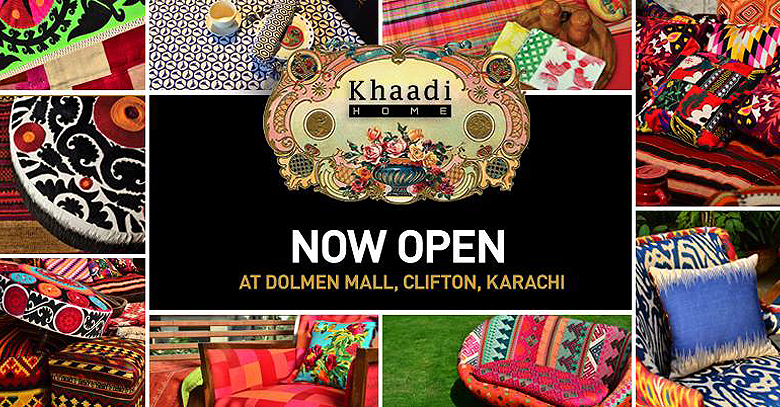 Khaadi HOME is the latest outlet of the Pakistani multinational brand KHAADI, recently opened at Dolmen Mall, Clifton. Khaadi has even launched a tagline of Sale with it that says; 'Shop from our home products and get a gift voucher worth 20% off your total bill and avail it at Khaadi'.
The Pakistani brand went international after massive acclamation of their work and expertise especially in women apparel, Khaadi has now officially launched its business entities in United Kingdom and more recently Kuala Lampur, Malaysia.
The Persian word 'Khaadi' literally means 'hand woven'.
Khaadi HOME offers a complete range of house products, cushions, sheets and much more with the brand's trademark fusion of traditional eastern patterns with contemporary western designs.
Khaadi is one of the most recognized names in the fashion industry of Pakistan. Khaadi has been part of the industry from many years. It started in 1998, reviving one of the most traditional of arts in the Indian subcontinent with the most traditional cloth, Khadi.
The brand was an instant hit due to its creative designs and much impressive sewing skill with knits. For Khaadi henceforth there has been no turning back.
Offering one of the most diverse and rich women apparel, both in stitched and unstitched form, along with a comprehensive range of attire for men, Khaadi seems to have found its right foot in what they do. Khaadi started to offer linen and other home textiles too.
With sub brands like Khaadi Khass and Khaadi Pret, Khaadi has become a respected name in textile industry, its latest offering; 'Khaadi Home' further expands the firm grasp of the brand.