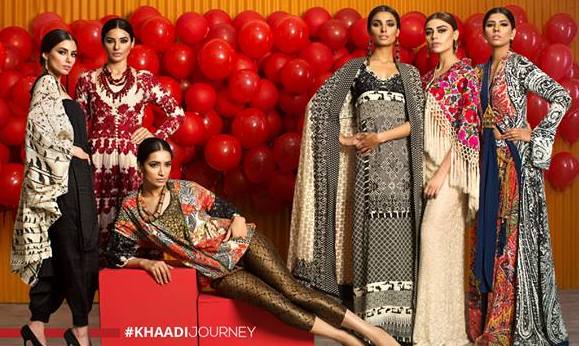 Everyone's favorite fashion brand will soon no longer be a teen! That's right, Khaadi has been around spreading colors for 18 years now. The fashion label is celebrating its 18 years of success with a groovy song 'Choo ley Asmaan'.
Khaadi is perhaps the first brand that taught women how to wear bold, colorful prints and slay it. Young and old alike, its dazzling designs and cut attracted them all. The outfits range from smart casual to formal, allowing women to rock the most glamorous looks to work, events and parties.
[fb_embed_post href="https://www.facebook.com/khaadi/photos/a.10150614555554075.392213.41015374074/10154294516649075/?type=1&theater/" width="550″/]
The popularity of the brand can be gauged from the fact that it is loved and preferred over all brands by women, hailing from all spheres of life.
There is just something unique and elegant about being a Khaadi woman. The label has been empowering women for 18 years now. From clothes to bags to shoes, Khaadi is more than a name. It's a persona.
Over the years it has branched out in several countries, spreading love and joy, equally loved by all. The products have increased from just fashion items to household accessories as well.
Take a look at the 18 year journey of Khaadi in this video performed by the incredible All Girl Band. 
The catchy song talks about evoking confidence and believing in oneself. With powerful lyrics, it gives Pakistani youth the message of dreaming big and pursuing the passion within. The upbeat number empowers the emerging by inspiring youngsters to work hard for the land of  green and continue to make it proud.
What is more, the tune immaculately describes the ultimate Khaadi journey. It takes us behind the curtains to the heart of the factory and showcases the effort if its employees that work and day night for fans of the brands.
Kudos to the savvy ladies of Nescafe Basement's All Girl Band. Read about them in detail here
Together the power squad and the composer, Xulfi have churned out a much-needed motivational melody.
[fb_embed_post href="https://www.facebook.com/khaadi/photos/a.10150276104414075.338527.41015374074/10154290191424075/?type=3/" width="550″/]
The video directed by Guddu & Shani is oozing with girl power, speaking volumes about how Khaadi has forever supported the Pakistani women to conquer the skies and  live their dream. By living its own bumpy ride and roller-coaster journey of 18 years, Khaadi is inviting the youth to come forward and contribute for the greater good of the nation.
It's heartwarming to see that Khaadi is celebrating its sartorial accomplishments along with its unsung heroes who made the brand what it is today.
Khaadi's 18-year journey has been commendable no doubt. The brand lives on, delighting fans and critics alike year on year.