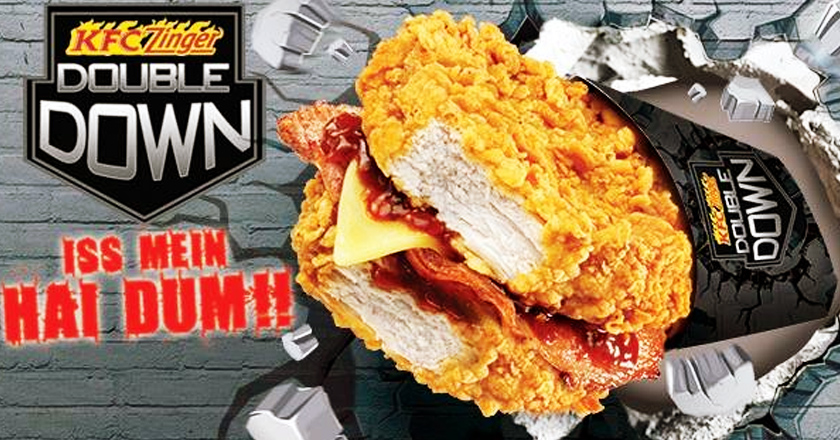 KFC Pakistan is marking the end of 2014 with the launch of a new delicious, appetizing chicken sandwich. This is the ultimate finger-licking, chicken filling meal which will definitely give people a unique eating experience.
On 22nd December, Karachi, KFC Pakistan held a press conference at KFC Khayaban-e-Rahat, in honor of the launch of this new innovative product which is bound to be appreciated by chicken lovers all over. In respect of the national tragedy that claimed 16th December 2014 – KFC Pakistan had previously postponed their launch event, and later kept the conference concise and solemn.
The theme for the event was 'Think outside the Bun', which if you consider, is a fitting one-liner for the new snack, which includes two delicious zinger fillets which make up a chicken meal that sandwiches hot and spicy filling, BBQ sauce and cheese, and four pieces of scrumptious pepperoni.
The General Manager, Marketing for KFC, Mr. Noor Alam announced the launch of the Double Down to a hyped-up, cheery crowd. There was also a Blogger's Meetup which was tied to be arranged with the conference. Guest Bloggers and attendees of the event were served with the KFC Double Down and it received rave reviews. This new crispy and delightful chicken offering is bound to be an instant hit.
KFC Pakistan aims to add new and similar products to their menus in the future. But for Rs. 450 with Pepsi, Double Down is one deal you try out before it's too late – KFC Double Down is only available in the markets for a limited time period.