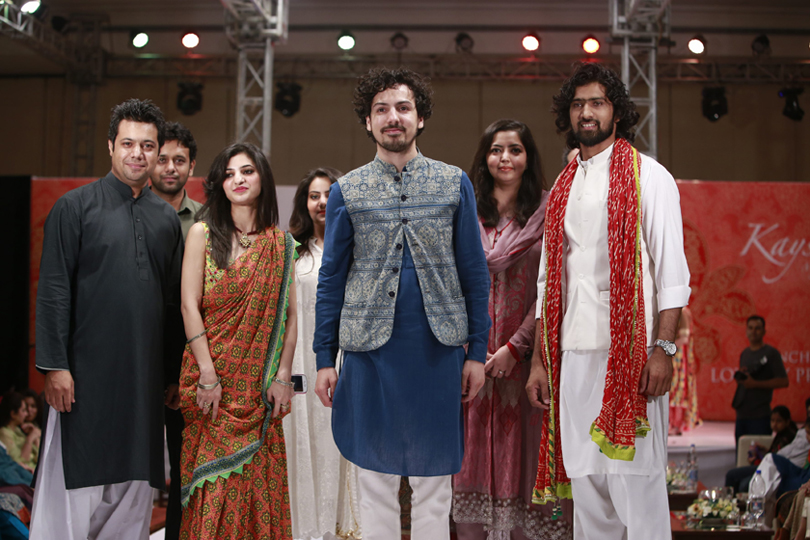 Kayseria launched its customer-focused Loyalty Card Programme at Faletti's Hotel in Lahore. At the event, the brand showcased an exclusive preview of their Eid collection 2014 titled "Shaadianeh" which was followed by a musical performance by Pakistani pop legend, Sajjad Ali.
The fashion presentation styled by the creative team at Nabila's and choreographed by Fia, Shaadianeh ranges between PKR 1,250 to PKR 6,000, the new Eid collection paid homage to several eras of the previous century.
The launch event was addressed by Managing Director of Sefam (Pvt.) Ltd (Parent Company of Kayseria) and CEO of Kayseria, Hamid Zaman.
It was followed by the awarding of loyalty cards to 8 loyal Kayseria customers by Mr.Zaman and Kayseria patron and Sefam Executive Director, Seema Aziz.
Surprise came in when Sajjad Ali was announced as the live performer of the evening. The news came in followed by the enthralling performance of the legend Sajjad Ali himself, only to uplift the already up thriving spirits of the audience.
The event was attended by fashion designers, musicians, stylists, media personalities and Kayseria patrons alike including designers Fahad Hussayn, Mohsin Ali, Ali Xeeshan, Rana Noman Haq, stylists Rana Khan Fawad and Khawar Riaz, media personalities Huma Amir Shah and Maria Memon, filmmakers Steve Moore and Sarah Tareen, musicians HaroonShahid and Farhan Ali and biking enthusiast Moeen Khan to name a few.
The evening was hosted by Nadia Hussain and managed by Bilal Mukhtar Events with public relations by Lotus PR.
Kayseria's loyalty card program and the new Eid collection are now available at all Kayseria stores nationwide.