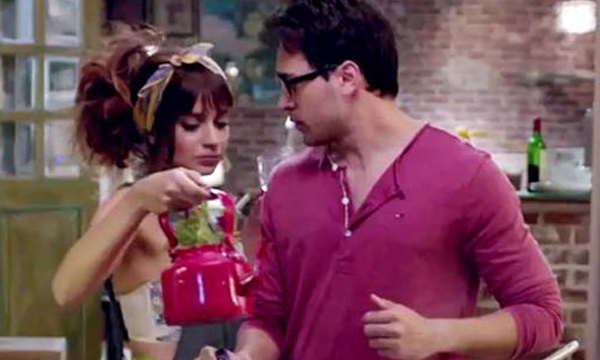 Nikhil Advani's latest project Katti Batti, starring the reigning B-town Queen, Kangana Ranaut, and the struggling actor, Imran Khan has failed to impress the audience.
Marketed as a thriller romantic movie, Katti Batti is far from a thriller and lacks the romance too. Not only does the leading actors fail to generate sizzling chemistry but the love story in general fails miserably too.
The story revolves around heart-broken, Madhav and heartbreaker, Payal, falling in love, only to have the lady love leave the dejected man without warning in the second half of the movie. However, unlike other times, Madhav is not ready to give up and sets upon a journey to win the love of his life back.
Read More: Kangana Ranaut's Chirpy Look in Katti Batti Trailer is a Winner
The script is poor, with the unfortunate Khan ready to mark another movie as a flop, and Ranaut losing her winning streak due to an underdeveloped character. Moreover, like many other Bollywood movies, Katti Batti is a mix of copied Hollywood scripts with major chunks taken from 500 Days of Summer and Love and Other Drugs.
While some have appreciated Khan's attempt to salvage the script, others have marked the movie downright boring except for Kangana's moving performance in the last half hour of the movie.
Take a look at Katti Batti's Twitter reviews:
@theathiyashetty @nickadvani #hero and #KattiBatti… Dono flop

— MovieShuvie (@movieshuvie) September 18, 2015
4 on 10, that's the average critic rating for #KattiBatti. See detailed scores here http://t.co/0whBwtFips pic.twitter.com/2Gr1enhEB1

— Newsflicks (@newsflicks) September 18, 2015
#KattiBatti stale. Nothing fresh

— MovieShuvie (@movieshuvie) September 18, 2015
#KattiBatti boasts of the BEST performance by Imran Khan in his entire career!

— Yagyank Shrivastav (@YagyankS) September 18, 2015
#KattiBatti: A not-so-romantic comedy about a relationship between an average guy and a quirky girl. @ImranKhanFans @KanganaRanaut4u

— Philmy India (@Philmy_India) September 18, 2015
#KanganaRanaut and #ImranKhan's #KattiBatti isn't fun! Check-out the #MovieReview here- http://t.co/xkE5e35dCN

— Sakshi (@Sakshi16Agrawal) September 18, 2015
Nikhil Advani kills us 2 weeks in a Row #KattiBatti can't believe I woke up at 8 am to watch this crap ! http://t.co/J1VH1bj7k2

— Zoheb (@kuttaiclub) September 18, 2015
RT abpnewstv "#KattiBatti: Nothing but a headache; #Imran does well, dull role for #Kangana yasser_aks … pic.twitter.com/rBXHiOHGNf"

— Keep Walking (@cool_surolia) September 18, 2015
Wen vill u grow up still playing katti & batti please look towards ur mamu & start doing some substantial #KattiBatti

— rizvain (@hamdulerizwan) September 18, 2015
Had no mood to watch #KattiBatti but being a #kanganafan had to watch it ,got surprised with the film , jus fantastic #Goodlovestory #Tears

— Anand Kumar (@iamanandkr) September 18, 2015
#KattiBatti rubbish movie!!!

— Shalini Singh (@Shaal78) September 18, 2015
Ammm…. yawn is high & romance is low…. why flow of movie is going slow.. #KattiBatti

— Sarthak (@SarthakSsr) September 18, 2015
#KattiBatti review: Imran is convincing, Kangana's character cardboard-thin – 1.5 stars http://t.co/ebvqtwB7O3 pic.twitter.com/PRH9S5GAc5

— NDTV Movies (@moviesndtv) September 18, 2015
Katti Batti Review : Kangna Meets Imran and then they bore us… :/ #KattiBatti

— Ms Malik (@What_the_FATWA) September 18, 2015
#KattiBatti turned out to be quite a disappointment! http://t.co/lNAor7vn2p #MovieReview

— Shivani Yadav (@TheShivaniYadav) September 18, 2015
my review of #KattiBatti : A 'yawn' experience! [1.5/5] http://t.co/yonSp4DYyo

— mere paas CINEMA hai (@gauravkrai) September 18, 2015
Kangana was invisible throughout untill last few minutes. But those few minutes were pulled off really well. #KattiBatti

— Abhishek Jain (@FilmyKeeeda) September 18, 2015
Imran is earnst,shows fire at svral junctures but his charactr is such a loser dat it irritates 2 no end n is counter productiv #KattiBatti

— Faridoon Shahryar (@iFaridoon) September 18, 2015
Another RomCom disaster! #KattiBatti is as boring as an every step taken by a turtle. Yawn yawn yawn.

— Abhishek Jain (@FilmyKeeeda) September 18, 2015
Its in the last 15 minutes of the film that Kangna gets to flaunt her enormous acting muscles n she floors u completely!! #KattiBatti

— Faridoon Shahryar (@iFaridoon) September 18, 2015
Imran's Maddy displays innumerable innovative ways 4 a guy to beg-n-beg-n-then-beg-a-bit-more till a tired Payal gives in #KattiBatti

— Faridoon Shahryar (@iFaridoon) September 18, 2015
Nikhil's #KattiBatti is a confusng slow-n-drab film that pretends 2 b #JaaneBhiDoYaaron a #TheFaultInOurStars or a zillion other rom jerkers

— Faridoon Shahryar (@iFaridoon) September 18, 2015
Film review: #KattiBatti is a rom-com low on both rom and com. http://t.co/vMQMG1awyM pic.twitter.com/YjQ3YXFiCs

— scroll.in (@scroll_in) September 18, 2015
Biiiiiiiiiig luck and love @nickadvani for #KattiBatti…. Made me smile through my tears…And can we have multiple copies of maddy pl?! 😁

— Aditi Rao Hydari (@aditiraohydari) September 18, 2015
Good luck @nickadvani for a gem that releases today #KattiBatti …. Loved the modern day romance, n the joy it brings! 😍😍😍

— Neha Dhupia (@NehaDhupia) September 18, 2015