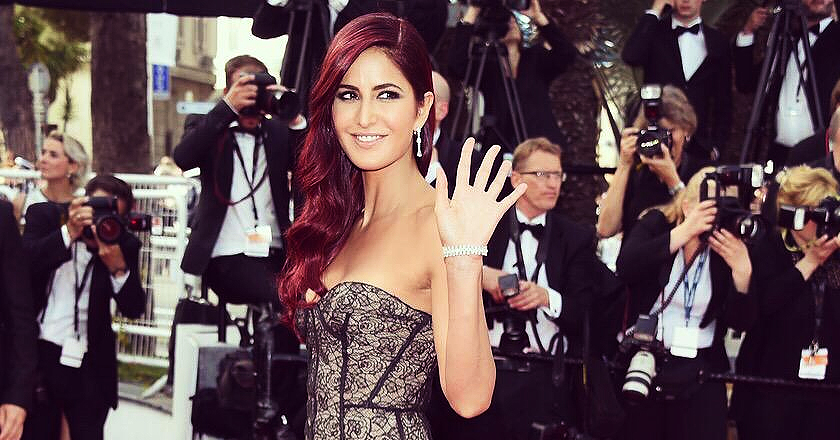 When it comes to beauty, glamour and oomph, Bollywood is no less than Hollywood!
Bollywood diva Katrina Kaif proved this with her first stunning appearance at Cannes Film Festival 2015. The actress turned eyes in a black and beige gorgeous dress by Oscar De La Renta creation completed with her latest red hairdo and nude makeup.
The 31-year-old beauty arrived for the opening ceremony and the screening of the film La Tete Haute (Standing Tall) in a black off-shoulder ensemble looking very much the superstar she is.
Exclusive updates from @KatrinaAtCannes with the Twitter Mirror! #Cannes #YouCannes #InsideCannes @TwitterIndia pic.twitter.com/tWze0zk9i5

— L'Oréal Paris India (@LOrealParisIn) May 13, 2015
Katrina is representing the beauty brand L'Oreal along with her co-actors Aishwariya Rai Bachchan, Sonam Kapoor and Freida Pinto. 
The actor also posed for pictures on the red carpet and also took a selfie with Oscar-winner Julianne Moore.
@KatrinaAtCannes & Julianne Moore, share a light moment as they take their first selfie #LiveFromCannes2015 pic.twitter.com/tz7jfNMU8X
— L'Oréal Paris India (@LOrealParisIn) May 13, 2015
UPDATE:
The actress donned a stunning red-laced ensemble by Elle Saab for the premiere of 'Mad Max: Fury Road' on Thursday (May 14). The long legged beauty wore a whopping 8-inch heel to compliment her look.