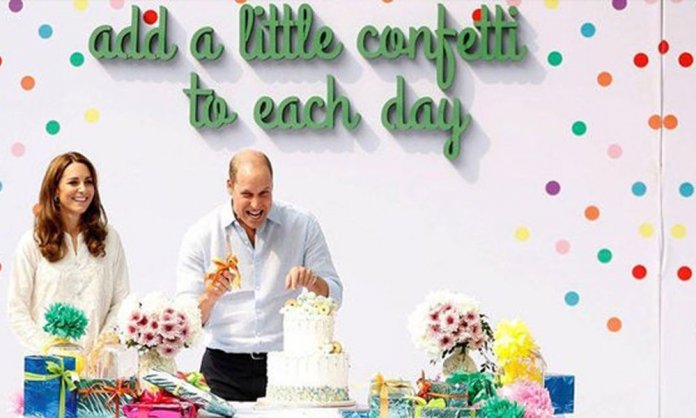 The Duke and Duchess of Cambridge are currently on the fourth day of their royal tour of Pakistan.
While visiting SOS Children's Village in Lahore, a charity that supports and cares for over 150 children, Kate and Prince William left a lovable impression on the minds of young children.
The royal couple sang happy birthday to Iman, 12, Ibrahim, 6, and Daniyal, 8.
Kate gave a speech that highlighted family bonds and relationships that are valued in the country.
The Duchess of Cambridge saw that family is "at the heart" of the Pakistani culture.
"Parents, children, aunts, uncles, grandparents all play important roles — you have reminded us exactly what family means," she continued. "You have shown us too that it is not simply a term that describes the relationship between blood relatives. Instead it describes those special bonds we share with those who make us feel safe and supported. It is the quality of those relationships that matters."
The duchess gives her first speech of #RoyalVisitPakistan pic.twitter.com/V7cUruOXMz

— Rebecca English (@RE_DailyMail) October 17, 2019
She also said a few words in Urdu which won the hearts of all Pakistanis.
"Emaan, Ibrahim aur Daniyal, app sab ko salgirah bohat bohat mubarak ho."
Kate also gave her first (and I think only) speech of the tour and even said a few words in Urdu pic.twitter.com/0qzhZi4ivR

— Rebecca English (@RE_DailyMail) October 17, 2019
She then went on to praise the work SOS Children's Village was doing.
Iman, who has been at the village for three years, told reporters, "It was very nice to meet the Prince and Princess. I am so happy and thankful to have them to celebrate my birthday."
She further added, "Her Urdu was very good!"
Kate Middleton's Urdu Speech gets Applauded Across Social Media! Have a look at the Twitter Reactions:
#KateMiddleton speaks in #Urdu and it is so endearing#RoyalVisitPakistan #Lahore pic.twitter.com/oExM09pKf4

— Murtaza Ali Shah (@MurtazaViews) October 17, 2019
How sweet , Princess Kate giving her first speech of this tour in Urdu , one of the best moments of this tour . 😊

Thankyou Duke & Duchess .🇵🇰🇬🇧💙#RoyalsVisitPakistan #RoyaltourPakistan #RoyalVisitPakistan #Lahore #KateMiddleton #PrinceWilliam pic.twitter.com/2nSGT7Hhwx

— Adnan Rajput (SaveMykashmir) (@BeczItsRajput) October 17, 2019
So, The Duchess Of Cambridge giving her first speech of this tour in Urdu, how cute is that maayn! ♥
#RoyaltourPakistan #RoyalsVisitPakistan #RoyalVisitPakistan #Lahore #KateMiddleton #DuchessofCambridge pic.twitter.com/BvQEs7gFOK

— Snookum💫 (@thekhanfactor) October 17, 2019
Such a sweet speech! I particularly love that she highlights the fact that in Asian countries, the whole extended family helps in the looking after of kids. It truly feels like a village of support.

— KateandWillTourofPak (@TourofPak) October 17, 2019
While everyone clearly fell in love with Kate's speech, some also began comparing it with Bilawal Bhutto's heavily accented Urdu.
Wow, 3 days in Pakistan & she can already speak better urdu than Bilawal https://t.co/pMpwajf8tR

— Osama. (@ashaqeens) October 17, 2019
What are your thoughts? Comment and let us know.
Stay tuned to Brandsynario for more news and updates.