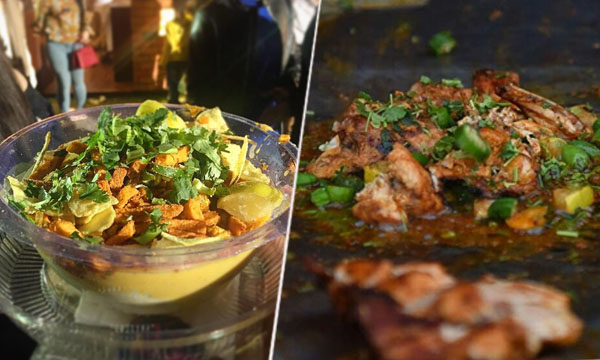 Yesterday was the third and the last day of one of the biggest food festivals of Pakistan, the Karachi Eat festival.
Karachi is the hub of food and the residents are aware of the innumerable amount of mouth-watering dishes this city has to offer. So, when the dates for the Karachi Eat are announced, people go all gaga about it and cancel all other plans, making sure they make it to the event.
The event turned out to be a success with thousand and thousands of people making it to the festival, not caring about the traffic, not caring about the queues, only hoping to have fun and eat loads and loads of food!
The yearly event took place at Benazir Bhutto Park this year and the ticket cost for an individual was Rs. 300, but its worth it when you have 125 stalls waiting to serve you food inside, cooked right in front of your eyes.
As soon as the event began, people started to pour in their reviews on social media regarding the festival which were good and bad both. We at Brandsynario, also went to the festival to check out if Karachi eat lived up to its hype or not, and we believe, it surely did but there were ways, it could've been made better.
So here's the good and bad of this year's Karachi Eat Festival.
The good:
Variety of Food:
From No Lies Fries to Cafe Paraha, this festival had to offer all the varieties of food that one could ever imagine. From Firangi to desi, you were able to treat your taste buds with almost all the flavors you were craving for.
2. The larger than life Food Stalls
Along with the small stalls, there were others that were stealing the limelight with their grandness. The competitors, Shaan and National, definitely gave a tough competition to each other and it is difficult to decide which one was better than the other.
There was even a Biryani Vending Machine. Yes, you read it right!
To be honest, this was really cool!
3. The Celebrities
Everyone was there, obviously not at the same time but there was a very good chance for you to see one or more of your favorite celebs when you made it to the event. There was celebrities who were promoting their upcoming shows and films, while others were there to just enjoy the food and have a good time.
Here are some of the celebs spotted at the event.
That's Ayesha Omar!
That's the one and only Feroze Khan.
The team of Ghughi.
The team of Cake.
4. Trash Management
This is something which was commendable. It's not easy when you have thousands of people entering a vicinity which is offering them a variety of food to eat. It could've gone wrong but the place was clean, there was no smell, and there was no trash to be seen anywhere. There were of plenty of trash cans available for you.
5. The entertainment
Apart from food, there was good music. In fact, there was Atif Aslam… do we need to say more?
There was also Fuzon!
There was Asim Azhar.
Tumhei Dil lagi Bhool jani paregi…#KarachiEat2018 #KarachiEat @AsimAzharr pic.twitter.com/FcHICtqqTB

— جیسمین (@YouAreFlover) January 14, 2018
There were other singers and bands performing on the stage too, making sure the audience remained entertained!
The Bad
The Never-Ending Queues
#Karachi: Massive turnout at #KarachiEat2018 Festival in Shaheed Benazir Bhutto Park, 100s r waiting outside in queue. Traffic jam at Khayaban-e-Saadi, near #BoatBasin, #Clifton. If you r heading towards #KarachiEat Festival then be prepared for traffic jam. #KHIAlerts pic.twitter.com/LBgsVjvINM

— SherY – (@SheryS_Official) January 12, 2018

To enter the event, there was a queue which seemed like it would never end but it eventually did. Thank God. Some people actually waited for about an hour or so to enter the festival which is definitely a turn off.
2. One entrance
For an event as big as Karachi eat, there was only one entrance. The security might be the reason behind it but it could've been managed. Because there was one entrance, there was lots of chaos and waiting outside which bored people like hell.
3. Washrooms
The washrooms were in one corner of the festival which made it very difficult for the people. If the management had arranged more washrooms, it would've been easier.
4. The Traffic & Public Transport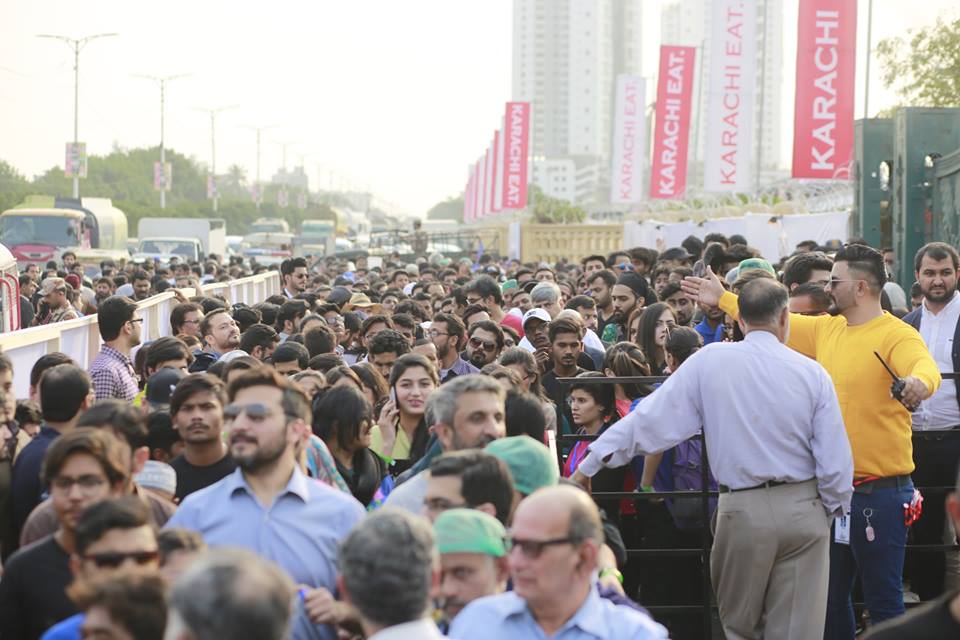 The traffic outside Benazir Bhutto Park was a major turn off. People had to wait for their cars for hours to reach the destination. Tariff based taxi services offered amazing deals for the event, but disappointed the commuters with their services yesterday.
5. No Volunteers
There were no volunteers inside to help you at the event. You were just on your own.
6. Maps
There were printed maps given to people on the entrance, but they were of no help. If huge maps were installed at some points, it would have made people's trip to the festival more convenient.
7. The Jammers
What is the point of installing signal jammers in Karachi Eat? Also, can't these people manage these events properly? Why should i fucking stand in que for an hour?

— Sameer Siddiqui (@SenatorSameer) January 13, 2018
People were unable to connect with their taxis and drivers because of the jammers. The networks were down, there as almost no connectivity. People also had troubling using their data to update their statuses from the event.
What Could've been better
The location
Though Benazir Bhutto was bigger than Frere Hall, it is still too far away for someone who is coming from Gulshan or North. If there's a place that is located in the middle of the city, it will be more convenient for people to make it to the event and the turn up might be even more.
2. The ambiance
The ambiance could've been made better. Apart from a few grand stalls, there was a lack of decor! To be honest, if you check out from a millennial's point of view, there was no cool background to click a picture with, except for the "EAT. Eat. Eat" one at the entrance. The plethora of stalls was a big no. It felt like they have just adjusted all the stalls in an enclosed area.
Over all, the event was a success. The traffic, the crows, the peak-factors, at the end of the day, it was all worth it!
Oh, not to forget, there were also fireworks!
Stay tuned to Brandsynario for more news and updates