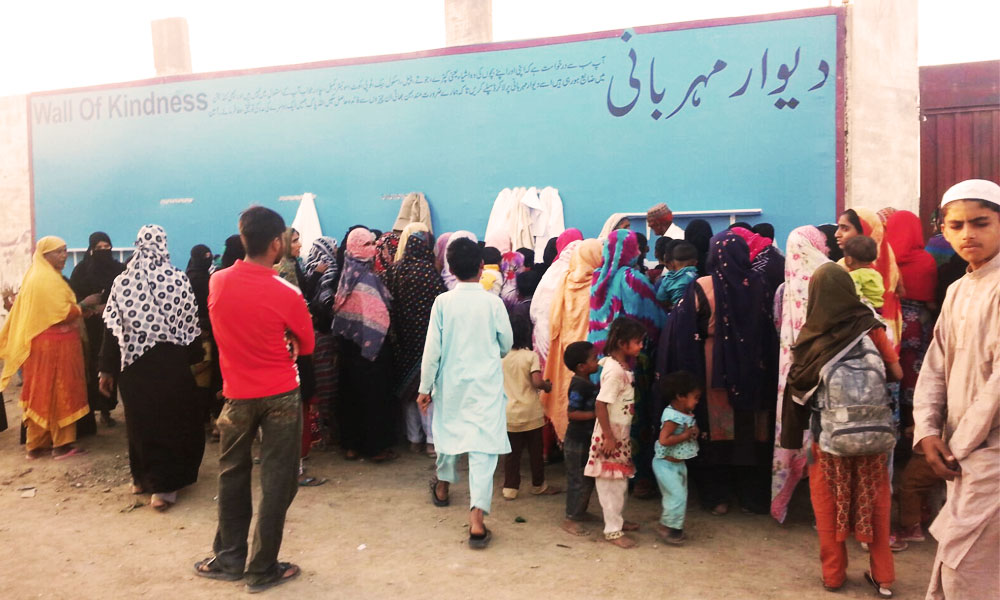 Taking inspiration from the great Iranian initiative, Karachiites are building their own Wall of Kindness to help the less fortunate and low-income earners of our society. A laudable step, in this regard, was taken by Muhammad Gulzar Mughal who set up a wall of kindness in Surjani Town near Khuda ki Basti, an area home to thousands of underprivileged people.
In Karachi, the first deewar-e-mehrbaani was created on January 15th at M. T Khan road and received a sweeping response from people in need. The project soon picked up momentum and started going viral on social forums for the success it garnered.
Gulzar Mughal's Initiative
Painted in blue, carrying hooks and shelves, besides other necessity items the wall holds clothes, shoes, school bags, stationary items and eatables including juices for the poor and needy. An interior decorator by profession and owner of Guls Studio, Gulzar says the idea of setting up the wall in this locality is that it is easily accessible. Poor people can reach out here and take whatever they need without feeling undignified or awkward.
This wall is another added 'feather to the cap'; an astounding initiative as the Iranian project has made its way and emerged all over Pakistan. The great initiative soon spread all over the country and other walls of kindness were established in Sahiwal, Peshawar, and Islamabad.
Gulzar said that the items on the wall were in good condition and they ensured that those who took the items did not hesitate to partake of this charity.
Gulzar and his family were placing the goods initially on their own but the wall is now open to general public or anyone who is willing to help. He encourages the passersby to leave surplus food and whatever they did not need.
Gulzar believes that these little acts of kindness can bring a positive change in society. He said people of the area are very happy with this project. He intends to extend the wall in future to place blankets, carpets, furniture, electronic goods and even dowry items.
Shamoon Abbasi Steps Up!
Another wall of kindness is established at Ranchor line Hoti road by actor Shamoon Abbasi and Dr. Muzna Ebrahim. Many celebrities have joined them in this great cause including actor Ahsan Khan; some heavyweights have also announced their support.
Moreover, under the wall of kindness initiative, a garbage dump behind a government school has been cleaned where 400 children are studying at a government school. Also, an electric water cooler has been installed to provide passersby with clean and cold drinking water in the upcoming hot weather.
A refrigerator has also been placed so people can put food and other leftovers in it for those who cannot afford two meals a day.
TCS Hazir Service
[fb_embed_post href="https://www.facebook.com/shamoon/posts/10153293327931712?pnref=story \/" width="550″/]
TCS has offered its TCS Hazir service to pick items people want to donate from their homes and deliver it to wall free of cost so that the needy can benefit from them.
With the help of this free service, people living in far-flung areas don't need to come to place the goods on the wall, they can simply call TCS Hazir and the goods will be delivered to the needy in no time.
Gul Ahmed has also collaborated with Shamoon Abbasi and announced to place their dresses on the wall so that the people who cannot afford to buy them on their own are able to don this luxury apparel. In addition, any person who donates three old Gul Ahmed suits to the wall will receive a brand new one from Gul Ahmed, totally free of cost. Now isn't this just wonderful!
A similar wall of kindness was set up by the instructors and students of Bahria College in mid-January. What do you think of this initiative? Let us know in the comments below.
Stay tuned to Brandsynario for more updates.