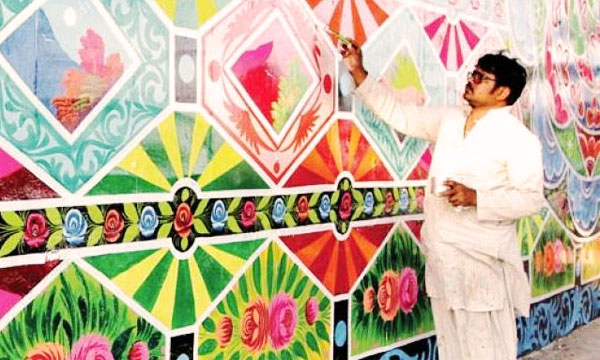 12 members of Phool Patti team led by Karachi Beautification Campaign in collaboration with I am Karachi and Indus Valley School of Art and Architecture (IVS) are working on the Karsaz Flyover on Sharae Faisal, giving it a beautiful look with truck art.
This particular task was formulated under the decision of The Karachi Beautification Campaign under former commissioner Shoaib Siddiqui in collaboration with IVS and I Am Karachi with truck artists from Phool Patti on December 29 last year.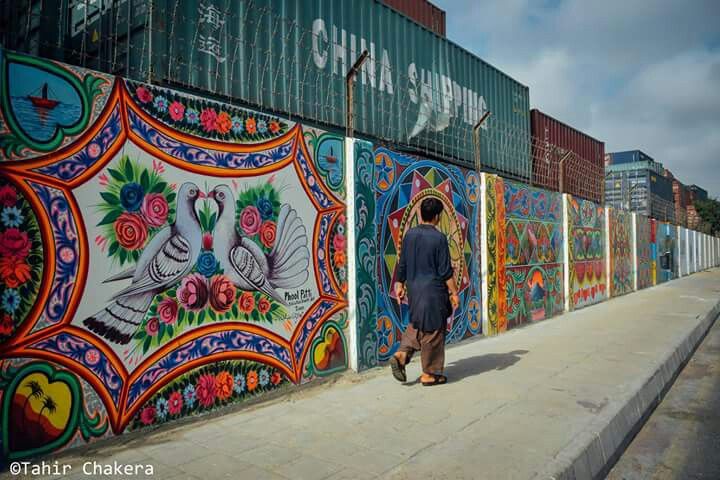 According to the IVS fine arts department head, Adeela Suleman, the second phase of the campaign I Am Karachi has been started with the promotion of truck art in Pakistan and abroad. The members from the Phool Patti team started the artwork on the flyovers from January 1.
On the other hand, the founding member of the I Am Karachi Campaign Rumana Hassan said that the idea of the Campaign has been decided but the area has yet to be decided after which the official work will be started from February by painting the walls of Karachi like they did on the MT Khan Road last year.
"We haven't decided the area yet but in a few weeks' time we will," she said. Currently, the 12-member team from Phool Patti has to beautify the Karsaz Flyover on Sharae Faisal before January 15 with truck art. In the next phase, they will either decorate the Baloch Flyover or the Regent Flyover on Sharae Faisal. The founder and creative director of Phool Patti, Ali Salman Anchan, said, "This unique free-hand art actually originated in Pakistan and the team of Phool Patti is lucky to preserve and introduce it in America and Europe."
Phool Patti chief executive officer (CEO) and head truck artist Haider Ali, while describing the uniqueness of truck art said that it is a way of beautifying the country or a city.
Anchan and Ali, on the other hand, appreciated the truck art. Anchan said, "The beautification campaign by 'I am Karachi' on MT Khan Road and the flyover near Airport on Sharae Faisal can be considered as revolutionary projects for the well-known Pakistani form of art."
Anchan and Ali, while talking to The Express Tribune said that the owners of numerous cafes, consulates and embassies have asked them to paint their walls to portray the truck art with colors.