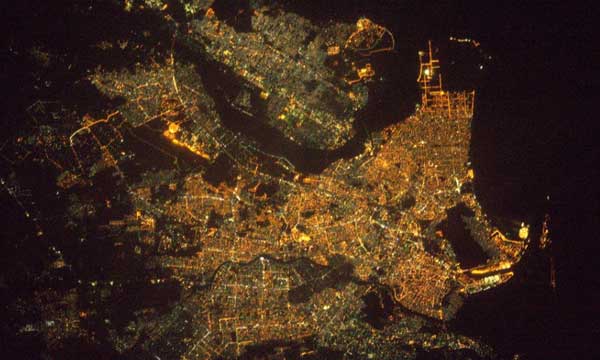 A beautiful picture of Karachi taken from outer space is making rounds on social media, shot by the French Astronaut, Thomas Pesquet.
Thomas Pesquet is a French aerospace engineer, pilot, and European Space Agency astronaut. He shared the post on his Twitter account and we bet the stunning image will wow you.
KARACHI AS NEVER SEEN BEFORE
Karachi on the shores of the Arabian sea.. the largest city in Pakistan and 7th largest in the world! 🇵🇰 https://t.co/xgmmMJhXp1 pic.twitter.com/FHwzldHOAO

— Thomas Pesquet (@Thom_astro) February 21, 2017
The Frenchman has posted similar shots from cities all around the world, taken from space.
CANADA
Icy Canada looks like marble seen from space! https://t.co/O0N3gihO4t #natureart #proxima pic.twitter.com/Z4pYkPct0z

— Thomas Pesquet (@Thom_astro) February 21, 2017
JEDDAH
The city of Jeddah, under some clouds coming from the red sea 🇸🇦 https://t.co/kQQdiWhvE6 #Proxima pic.twitter.com/LvXpKdClob

— Thomas Pesquet (@Thom_astro) February 20, 2017
ROMANIA
Oddly bent river somewhere in Moldavia… people have pointed out it is actually in Romania! https://t.co/qtptmM2KBQ pic.twitter.com/UICweNMACN

— Thomas Pesquet (@Thom_astro) February 20, 2017
CATANIA
Another city at night in Sicily, but is it @astro_luca's home town of Catania? https://t.co/fDBpxUePpp pic.twitter.com/2Ibfg4uH6Z

— Thomas Pesquet (@Thom_astro) February 19, 2017
ALGIERS
Algiers at night looks as if it is trying to swallow the Mediterranean Sea #CitiesFromSpace https://t.co/N4hycq6g3w #Algeria pic.twitter.com/Y1zzbIsNSL

— Thomas Pesquet (@Thom_astro) February 18, 2017
MELBOURNE
The beautiful city of @Melbourne! First picture I took where, if you zoom in, you can see cars or maybe trucks… sorry: utes 😉 G'day, mates! pic.twitter.com/bXGgRE4P1V

— Thomas Pesquet (@Thom_astro) February 18, 2017