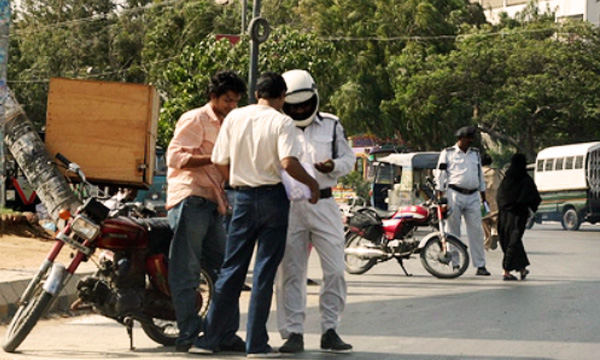 The traffic police in Karachi will now arrest drivers carrying no or fake licences from Monday onwards. The traffic police of Karachi initiated various crackdowns this year consisting of action against traffic law violation, violation of one-way traffic, helmet compulsory drive and action against low-quality Compress Natural Gas (CNG) cylinders being used in school vans and public transport.
Restriction on juvenile drivers and travelling on the top of buses had also been taken under consideration.
The restriction will be launched from Monday morning while 15 checkpoints have been set for the action where sub-inspectors and inspectors are likely to perform their respective duties from 11 am to 1 pm and from 9 pm to 11 pm, Muhammad Idrees, the traffic police official reader to the traffic DIG, claimed.
Read: Qingqi Rickshaws Banned By the SHC
Just like previous crackdowns have been unproductive, the latest campaign relating to drivers without licences is also feared to be another futile exercise.
Muhammad Idrees however, has asserted on the futility of these campaigns; "The teams are to be deployed on major areas like Sharae Faisal, Baldia Town, Bilawal Chowrangi, Mai Kolachi Road and other areas", Idrees asserted.
When asked if the police hold the authority to arrest drivers, Idrees answered that the law regarding arrests is not novel. "It's already mentioned in Motor Vehicle Ordinance Section 99, under which we can arrest drivers over charges of negligence". He stated that driving without a licence is a crucial negligence becoming a major cause of fatal accidents.
Also read: Karachi Monsoon Rain: Twitter Explodes With Reactions
Idrees further asserted, "Drivers of commercial vehicles not carrying licences can be put behind bars for maximum two years while drivers of private vehicles are to be arrested for a maximum one year," following the imposition of Pakistan Penal Code's Section 420.
The traffic police further claimed that it is futile to give people more time for licence application; "People will never apply for licences until we start taking action," Idrees stated.
DIG Aftab Pathan has also been requested for arrangements of a special desk for the numerous drivers expected to seek licences once the crackdown is initiated.
In the meantime, Pathan said that he had demanded the Traffic DIG to be given at least 15 days since they have three branches in the city, Korangi, Clifton and Nazimabad; they possess the capacity to provide licences to a maximum number of drivers.
According to Express Tribune, Furqan, an official at a Clifton licence branch has stated that since the news about the crackdown has circulated he has received several licence seeking requests.
He accepted that the licence offices do not hold the capacity to cater to massive requests all at once.
Read more: Karachi Traffic Management Board to Remedy Traffic Woes
Stay tuned to Brandsynario for more updates!