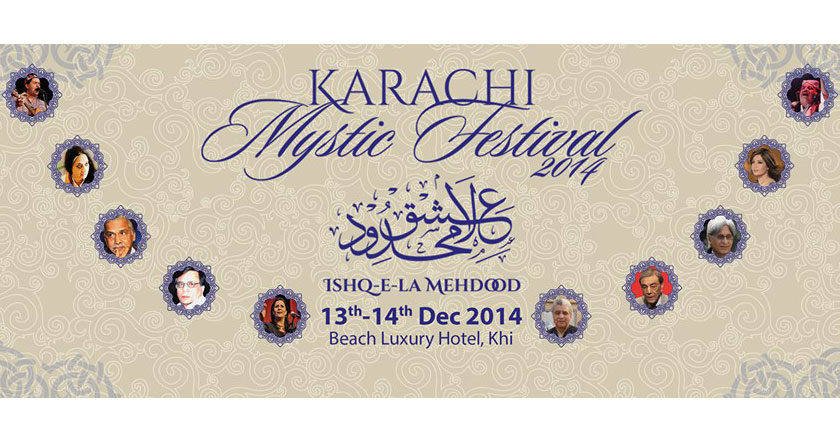 'Karachi Mystic Festival 2014' is to be held on the 13th & 14th of December at The Beach Luxury Hotel, Karachi being organized by Rumi Love Foundation (RLF), a not for profit organization committed to strengthen the cultural fabric of the society.
The purpose of the festival is to spread love and peace through the soulful and thought provoking poetry of Rumi and other literary geniuses in a series of events. The event will remain open to public from 10:00 am till 5:30 pm on both days.
The festival will entertain the sufi fans with parallel events such as keynote speeches, panel discussions, conversations, book launches, qawwali, musical performances by famous literary personalities and the highlight of the event 'whirling darvishes'.
A few prominent names paying homage to Rumi include veterans of performing arts and literature like Zia Mohyeddin, Tina Sani, Haseena Moin, Sheema Kermani, Yousuf Salahuddin, Dr. Mubarak Ali and Atiqa Odho. Senior experts like Ch. Aitzaz Ahsan, Mujahid Barelvi and Ghazi Salahuddin have also confirmed to grace the event with their presence.
The two day event will also include a Mehfil-Wajd by famous qawwals Farid Ayaz and Abu Mohammad, Qawali performance of Amir Khusro's poetry by Ghayoor Moiz Mustafa Qawal, Qawali performance by Aftab Khan and Humnawa and a mehfil of 'Roohani Kefiyat' by Tina Sani.
Anticipating a large crowd at a one of its kind event, Shah Jamal Hashmi, President, RLF said:
"The Karachi Mystic festival will give a chance to those who are genuinely interested to understand the meaning of life of Rumi and his great work to explore the mysteries within ones' self through the 'Silence' in Rumi's words that holds appeal for young and old alike. It's going to be an unforgettable spiritual journey for all the art and poetry enthusiasts and a mammoth learning via various forms of inspirational sessions."
The event is being organized by DEXTEAM with corporate support of Atlas Asset Management and Tapal Tea Private Limited.