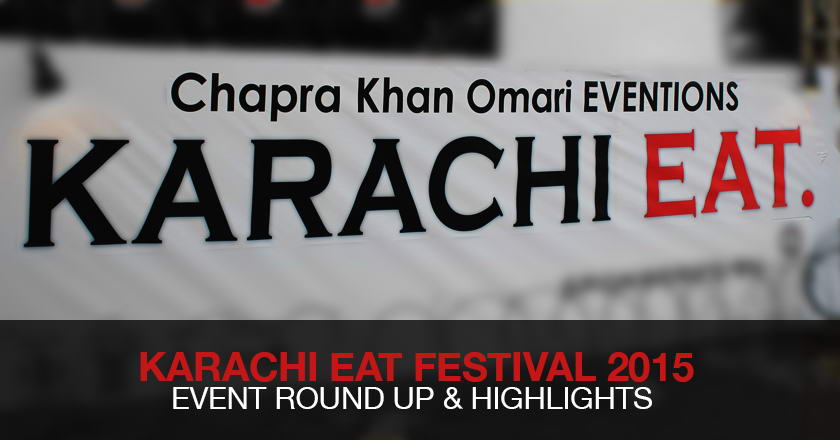 If there was one thing that all Karachiites would have to agree upon, it would be their love for eating out. This past weekend was the perfect opportunity for all foodies to experience just that.
The Karachi Eat Festival, now in its second year running, was an adventure on its own. A gluttonous adventure mind you, but an adventure nonetheless.
Come the weekend, the Frere Hall garden was transformed into a food paradise for all and sundry. Tickets were moderately priced at Rs. 200 per person with entry valid for families only.
The caterers ranged from top notch restaurants, to roadside dhabbas, to home cooks trying to make it in the big leagues. All of them having one thing in common- tantalizing mouthwatering food. From Chappli Kababs and Nihari to Churros and Ravioli, they had it all.
Baked goods seemed to dominate the desserts section with more than 10 stalls allocated for just baked goods. To go with this, the organizers also had a "Cake off" in which home-based bakers were encouraged to show off their elaborate cake making displays.
Upon entering the event, admittedly the crowd was a little overwhelming though it didn't seem to affect the long lines waiting earnestly for their servings. Actually the queues formed were quite a welcoming sight. This is how people are supposed to behave in public gatherings where everyone is out to enjoy and have a good time.
Now when you're on an eating spree and want to sample as much on offer as you can, small servings are the way to go, granted the food is priced reasonably. It was not uncommon for the food to be completely wiped out and stalls laid bare by the time you came around for seconds. Zuchero's Tiramisu got sold out in half an hour on the second day.
The organizers made a concerted effort to not let this just be a feeding frenzy. There were some nice backdrops available for people to take pictures on and capture the feel of the event.
Other attractions included face painting, shirt printing and a very fascinating Circus section in which some of the more creative culinarians were doing stuff from food art to actual arts and craft.
The stage, which was also open to anyone who had the galls to perform, hosted Zoe Viccagi the first night and Rani Taj, best described as a British Dhol wali, on Sunday night. Rani Taj in particular gave quite the performance and left everyone gasping for more. 
There seemed to be certain crowd favorites confirmed by the long lines. The Deli with its offerings of Ravioli and pastas seemed to be a popular choice for those in the mood for Italian cuisine. For desi food lovers there was the obvious Chapli Kabab House. The plain serving of one Beef Chapli Kabab, sitting on a fresh Nan was exquisite in its simplicity and taste.
The Nihari place, Koyla Karahi and Bun Kababs were the highlights for desi foodies. Granted the Bun Kababs were tiny, but they were the right kind of tiny, the kind that you want when you want to sample literally everything on offer. The green Chutney served with the Bun Kabab was very fresh and blew your palate away with its tantalizing taste of chilli.
It's always a good idea to get to these kind of events early. The early birds did actually get the worm in this case. People who went earlier in the day got to sample almost everything on offer.
As the day went by, some of the smaller, home-based establishments simply could not cope up with the demand. It is pertinent to keep in mind that these were home cooks who don't have a commercial set up in place. For them to put themselves out there in front of such a huge audience certainly deserves some acknowledgment. If bigger and better establishments could run out of food, then these home cooks surely deserve some slack.
People who went at night on the last day might have been unlucky with the food and crowd situation but at least they got to witness the wonderful, albeit startling fireworks display at the end. 
Now to some of the more contentious issues that inevitably crop up during such festivals.
The parking lot madness was surely the sorest point for the event. Organizers should have put out a roadmap indicating all entry and exit points. This simple exercise would have saved a whole lot of people, a whole lot of trouble.
Also, depending on what time you went, it was either a very well organized event, or just absolute pandemonium as experienced by a lot of people. It is always a good idea to get to these kind of events early. The early birds did actually end up with the worms in this case. People who went earlier in the day got to sample almost everything on offer.
People who visited at later times in the day experienced complete mayhem on the roads surrounding the event. Even once inside, crowd management was non-existent.
There was absolutely no count of how many people were going in or coming out. By the end of the event, there was literally no space left to walk inside. Seating arrangements along with proper waste management were severely lacking.
Now I understand there are teething problems with festivals everywhere. Not everything can be perfect. Hopefully, the next edition will be better than the last. 
That being said, all in all, it was a carnival with nothing but sweet smiling people taking pictures, eating food, shopping, drinking, just roaming around taking selfies.
The atmosphere at Karachi Eat Festival is something I have longed to see in Karachi. Something that defines the happy go lucky citizens of this great city. Our city has gone through so much pain and suffering and that in moments like these – small, bright moments in the darkness that provide optimism and simple joys and make it a pleasure to simply being around other Karachiites out to enjoy themselves with their friends and family.
It gave the people of this city an outlet, a chance to indulge themselves in a complete experience that brought them up close and personal with the food they love to eat and the people who love to make it.
TOP TEN DISHES AT KARACHI EAT 2015.
1. Fika's sea food chowder and cream of mushroom soup.
2. Deli's Ravioli 
3. Hot chocolate and Churros from Rayyan's
4. Chapli Kababs from the Chapli Kabab House
5. Nano's Bun Kababs
6. Fish and Chips
7. Saniya's Khousay
8. Macaroons from Sugar Mistress
9. Nimbo Pani from Nimbo Paani & Co
10. Doodh Patti from Chai Wala