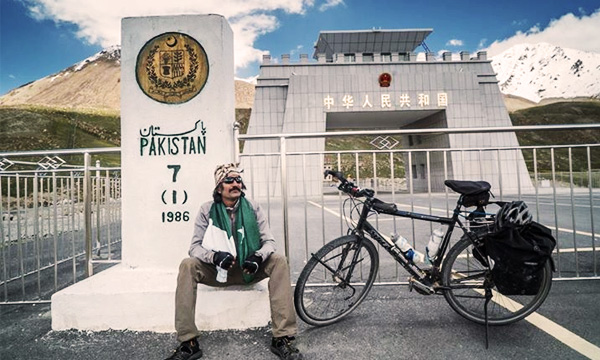 A Pakistani born and bred cyclist 'Kamran' has done what others only dream of! He cycled his way from Germany to Pakistan, crossing 28 countries on the way. Born and raised in a small city 'Layyah' in Pakistan, Kamran started his page back in 2011 when he decided to cycle from Germany to Pakistan. Kamran holds a Ph.D. degree in computer science and now lives in Nuremberg, Germany where he is employed in a software firm.
He took off on June 2nd, 2011 and after being on the road for 50 days, he reached Turkey and then decided to break his journey in the wake of his mother's hospitalization.
However, he resumed his journey from Turkey again after three years and completed his journey by crossing 28 countries in the following manner: Germany, Poland, Czech Republic, Austria, Slovakia, Hungary, Romania, Bulgaria, Turkey, Denmark, Liechtenstein, Switzerland, Italy, SanMarino, Vatican City, Malta, Luxembourg, Belgium, Netherlands, France, England, Iran, Turkmenistan, Uzbekistan, Tajikistan, Kyrgyzstan, China and Pakistan. He is now known for holding various long distance cycling events in Islamabad and surrounding areas.
Recently, Kamran on bike held an event in which Kamran, along with a group of cyclers, travelled from Tashkurgan China to Islamabad Pakistan via Karakoram Highway KKH. The journey entails a series of breathtaking views which the group encountered on their way.
Here are some of the photos from their journey.
[fb_embed_post href="https://www.facebook.com/media/set/?set=a.906151759442939.1073741870.142750529116403&type=3&__mref=message_bubble"/]
Apart from that, KamranOnBike and Critical Mass Islamabad, a group of cycling enthusiasts, have teamed up for a short bicycle ride in Islamabad on 25th July, 2015. This ride would start from Shah Faisal Mosque and would end at the Haunted Hill Park in F-6/3.
For more details, visit the Facebook page here.
This is a fresh initiative taken by Kamran who is said to have a different take on life. He believes in living his life to the fullest, in order to save any regrets that he might have in the future. What do you think about this initiative?