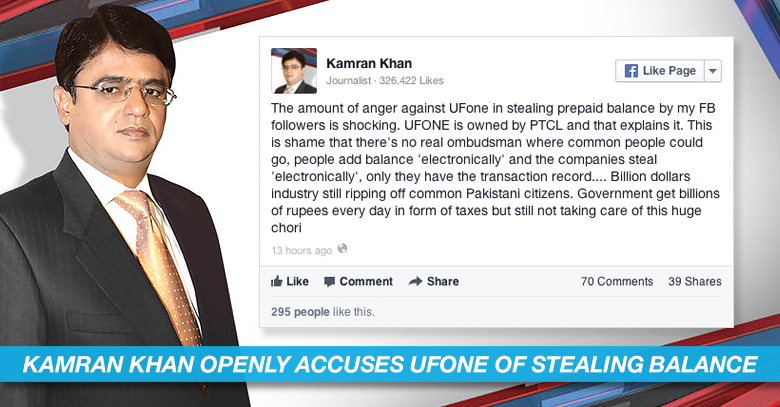 Kamran Khan has directly accused UFONE of 'shamelessly stealing' balance from their customers.
Khan put up a status from his official facebook page, which is in fact a direct accusation of the felony.
The debate of mobile network companies charging their customers for hidden services has been an ongoing one for some time. However, this incident of accusing Ufone directly, on a public forum is the first of its kind.
Kamran Khan is the host of one of the most influential Television talk shows in the country, "Aaj Kamran Khan Kay Saath" thus making him a household name. Khan is originally the Group Director of Geo News and Jang Group of Newspapers.
With over 3,00,000 followers, Kamran Khan has a substantial facebook following. The debate started when Khan asked his followers about the hidden costs mobile network companies charge from their customers for unwanted 'services'.
Around 1,025 comments avalanched their way into the post in no time, people blaming almost all the network providers in the country
"Since there is no effective regulatory authority for these network companies, which has allowed UFONE to openly 'steal' the balance from the general public. Since, the money is transferred in the phone electronically it is also stolen [by UFONE] electronically." – Kamran khan remarks in the other post written in URDU.
Kamran Khan seemingly read through the thousand comments to find, 'UFONE as the "only" Guilty', or at least the most infamous among the people. 
What remains unclear is Kamran's reaction to the other network providers; why avoid taking their name completely? And if the axe fell on UFONE because it received the most number of votes, could it not be because a lot of young people use UFONE, which coincidentally is also the 'primary audience of facebook'.
Ufone was the first Pakistani brand to cross the 2 million mark on facebook. An example that proves the massive presence of UFONE's audience on facebook.