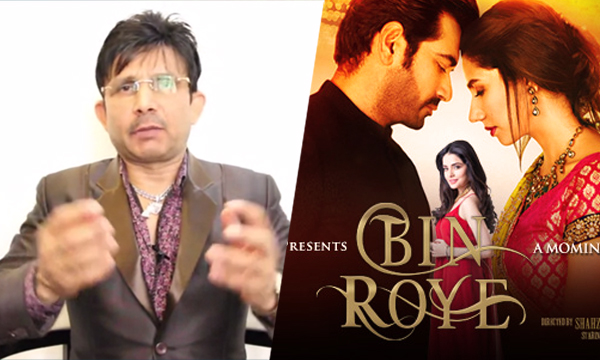 The much anticipated Pakistani movie Bin Roye has become the talk of the town and was able to gain international attention. The film was released in Pakistan, India, UK & Dubai on July 18.
Kamaal R Khan, aka KRK, an Indian comedian, actor and producer has posted his own version of the love story. He bashes the love triangle between Saba (Mahira Khan), Irtiza (Humayun Saeed) and Saman (Armeena Rana Khan). Saba falls in love with Irtiza; who loves Saba's sister Saman. Irtiza and Saman get married and Saba, unable to control herself, curses her sister.
Also see: Bin Roye Review: Twitteratis rate the Family Drama 7/10
Fast forward to the new couple visiting Pakistan. Saman meets an accident and dies telling Saba to look after her husband and her son. Saba, on the other hand, feels that her curse came true and she holds herself responsible for Saman's death. Saba and Irtiza get married, but Saba doesn't accept Irtiza and blames him for what happened to her family.
Watch the video below:
Talking about the screenplay, KRK says, "The screenplay isn't that good, the starting of the film is fine but the scene at the interval steals the show whereas the second half of the film is also fine. The climax of the film is excellent."  KRK also believes that dialogues and the music of the film are also just ok and are not that good.
The film is more of a family type and is all about emotions so it doesn't have any action scenes. It only explores how love and hate go side by side.
KRK also claims that the editing is very poor. While the Pakistani industry appreciates Momina Duraid for her excellent pieces of work such as Humsafar, KRK says, "The director of the film is a female who doesn't know how to direct the film as she doesn't know when to start a scene and when to end it"
Read More: Pakistani Movie Bin Roye Full Songs List: Listen Here
Talking about direction, he further said that the film is shot in Dubai, but again and again the scenes are taken to America which was not a necessary requirement. KRK suggests that it would have been much better if the film scenes were kept in between Pakistan and Dubai – making the flow of the film much better.
Praising the cameraman, he says that camera work is excellent in the movie and location is also good as the entire film was shot in Dubai. While in Pakistan, Humayun Saeed is praised and is known for his excellent acting skills, KRK still believes that Humayun doesn't know acting much and doesn't fit well between the two actresses as he looks much older than the female leads. "If the film had Fawad Afzal or Ali Zafar as the male lead then it would have been perfect," KRK remarks.
Jumping on Jawed Sheikh's role in the movie, KRK says that he has given a somewhat ok performance. Praising the beautiful Zeba Bakhtiar and her role as a mother, KRK says that Mahira Khan looks fine in the film and KRK is surprised to see how she is starring against SRK in Raees. Furthermore, he says that Mahira Khan's personality is equivalent to role of those actresses who are best fit for small side roles as that of a maid.
Giving his final opinion regarding the film, KRK says the film isn't that bad and gives a rate of 2.5 out of 5. Talking about the decisions to ban the film in some parts of India, KRK says that it shouldn't be the case as Pakistani producers hardly get a share of 20-25 lacs from Maharashtra whereas Indian films in Pakistan get at least 10-15 crores during their release.
Also Read: Bin Roye Banned in the Maharashtra State of India
He says that Indian films annually brings a huge chunk of money from Pakistan; boosting the economy of India. The question he raises is that if Pakistani films are taking a very small share of money, then why was the film banned?
The film is based on an Urdu novel 'Bin Roye Aansoo' by Farhat Ishtiaq and is produced by the ace producer Momina Duraid who is known for her super-hit drama Humsafar. It is directed by Shehzad Kashmiri and Momina Duraid.