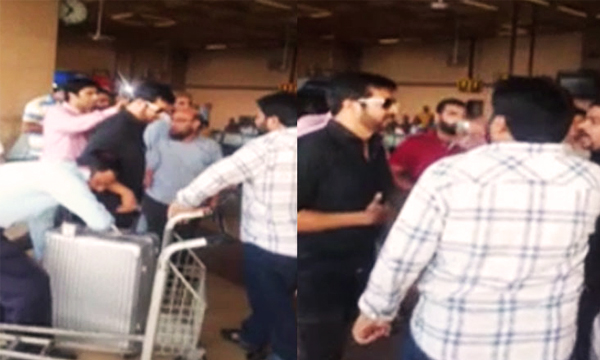 UPDATE: After being heckled at the Karachi airport, the Bollywood director Kabir Khan has given an official statement that he will not be visiting Pakistan again.
Giving an interview to Bollywood Life, an Indian entertainment portal, the ace director was questioned whether he would visit Pakistan again after what happened this time, to which he responded; "That's not possible. My wife (Mini Mathur) has made it clear I can't go there."
The director of Bajrangi Bhaijaan and Phantom has refused to categorize the entire country Pakistan as an intolerant one, merely on the basis of one bad incident.  "I am not going to get cowed down and be provoked into making a statement against the country. Because the truth is, the common man is just not interested in any violence. I was in Karachi for just one day. And it was all very friendly and hospitable until this incident. It's just a handful creating a vitiated atmosphere," Kabir said.
---
The 'Phantom' and 'Bajrangi Bhaijaan' filmmaker Kabir Khan, who flew to Karachi to attend a conference, was surrounded by a mob of angry citizens at the Karachi airport on Wednesday, chanting slogans and protesting against his anti-Pakistan movies, Dawn News reported on Wednesday.
Kabir has finally opened up about the entire incident and the called the protesters exactly the kind of "extremists that Phantom spoke about."
"It was my first time in Karachi. I was only there for a day but I had a great time interacting with the delegates. People there had certain views and reservations about Phantom but they posed questions and I answered them. That's how a civil discussion is meant to be."
Lovely meeting the refreshingly down-to-earth @kabirkhankk #BajrangiBhaijaan pic.twitter.com/RqlfNRdJeV

— Huma Amir Shah (@humaamirshah) April 26, 2016
He also stated, "one stray incident with a bunch of mad men wouldn't deter me. Fringe elements don't represent all of Pakistan, the people I met had warmth and goodwill," Kabir Khan told Mumbai Mirror.
He elaborated on the incident; "These are the kind of extremists that Phantom spoke about. I tried addressing their issues but they were interested in filming videos on phones. Such people are extremists and forget that if I directed Phantom, I have also madeBajrangi Bhaijaan."
---
Kabir Khan was at Karachi's Jinnah International Airport to fly to Lahore today when a mob of furious people surrounded the director and chanted slogans against him.

"Muslims are massacred in India but you don't make films on it, why don't you make movies on RAW," one male voice says in the footage, in between chants of "Pakistan Zindabad" and "Shame Shame."
Kabir Khan maintained his cool, remained silent and headed towards the airport arrival lounge. He has directed controversial movies against Pakistan, which were banned in the country.
The movie "Phantom", revolves around the tragic Mumbai attacks at the Taj Hotel on November 26th; it was banned in Pakistan after a Lahore High Court petition was passed last year.
See what Kabir Khan had to stay about this incident:
To media on both sides: 12 screaming lunatics with a mobile phone camera is not news. Please don't give them the attention they want. Ignore

— Kabir Khan (@kabirkhankk) April 27, 2016
Yesterday only Kabir Khan told a local newspaper that he is interested in making a movie in Pakistan.
The film-maker stated that he had visited Lahore before however this is his first time in Karachi. "My film Bajrangi Bhaijaan received a lot of appreciation in Pakistan for which I am grateful. The purpose of the film really was to bring the people closer," Kabir added.
Kabir did not refrain from talking about his movie Phantom; "Phantom was banned in Pakistan but I understood that because it was a political film. But even with this film, I shed light on certain elements on either side of the border that add fuel to fire," Kabir said.
Stay tuned to Brandsynario for more updates!