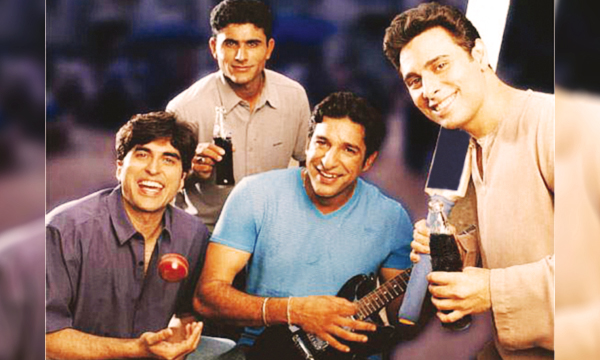 The shocking death of the popular pop icon- turned- preacher ,Junaid Jamshed left the whole world in mourning. The icon lost his life in a plane crash near Havelian city of Khyber Pakhtunkhwa, which was on its way to Islamabad from Chitral.
Before he embraced spirituality and became a scholar, J.J was known as the front man of the popular 90's band. "Vital Signs". Jamshed also went ahead to establish himself as one of the most glamorous stars of the 90's.
Remembering Junaid Jamshed: From Pop Sensation to Religious Preacher
Not only his music captured the heart of the nation with hit singles like "Dil Dil Pakistan", Jamshed was also the most sought after artists by popular brands.
Here is a throwback at some of the most memorable advertisements in which Junaid Jamshed made an appearance.
1. Junaid Jamshed in Khaleej Time Commercial
The singer starred in a Khaleej Time ad  almost two decades ago. With a Hollywood time sequence, the ad will hit you right in the feels.
https://www.youtube.com/watch?v=ZekMEVrgGZM
2. Junaid Jamshed in Zong Hajj Commercial
Shot in the beautiful city of Lahore featuring the Badshahi Mosque, Junaid Jamshed endorsed Zong'- one of the largest mobile networks in Pakistan.
https://youtu.be/UlTUKbj09cs
Top 10 Junaid Jamshed's Hit Songs That are Bound to Make You Nostalgic!
3. Junaid Jamshed & Mahnoor Baloch in Nestle Everyday Ad
With this ad, we all will get a major throwback. In this TVC, Junaid Jamshed made an appearance with the ever youthful, Mahnoor Baloch for Nestle Everyday.
https://youtu.be/akVIh9AANzg
4. Junaid Jamshed in Pepsi Ad Ft. Wasim Akram, Abdul Razzak & Haroon
Wasim Akram +Abdul Razzak + Haroon + Junaid Jamshed = Ultimate greatness!
The four heroes united for one of the most brilliant ads of all time and produced a  song that became an anthem for generations to come.
https://www.youtube.com/watch?v=rPi3e6lZASY
5. Vital Signs Pepsi Cola Commercial
Pepsi has long been known to brand itself as "the choice of the generation" and what better way to declare it than to feature a pop- band that found a permanent abode in the hearts of Pakistanis!
This cool Pepsi commercial will make you walk down the memory lane. The ad made waves as it starred the band singing at the top of a delivery truck, their hit tune "Dil Dil Pakistan" .
Junaid Jamshed 10 Quotes That Prove He Was an Inspirational Personality: Exclusive Brandsynario Interview
6. Junaid Jamshed in Pepsi Commercial "Hum Hain Pakistani"
Back in the day, every boy wanted to be a rock star and who could be better to look up to then the hip boys of Vital Signs.
Take a look at this commercial where the singing sensation, Junaid Jamshed flaunted some major dance moves.
7. Vital Signs in Pepsi Commercial
The soft drink giant once again paired up with Vital Signs for another commercial featuring their hit single, "Dil Dil Pakistan".
8. Junaid Jamshed in Ufone Commercial
Before the Ufone commercials employed a stellar cast that became the permanent brand ambassadors for the mobile network, Junaid Jamshed made a memorable appearance in one of the first Ufone commercial alongside comedian, Faisal Qureshi.
Junaid Jamshed's Last Pictures & Kalaam Are Going Viral on Social Media!
9. Junaid Jamshed in Lays Commercial
After Lays Chips was attacked with allegations of controversial ingredients, Junaid Jamshed made an appearance in this very viral Lays Chips commercial for the global brand.
Which Junaid Jamshed ad is your favorite? Share with us in the comments below. 
Stay tuned to Brandsyanrio for more updates.