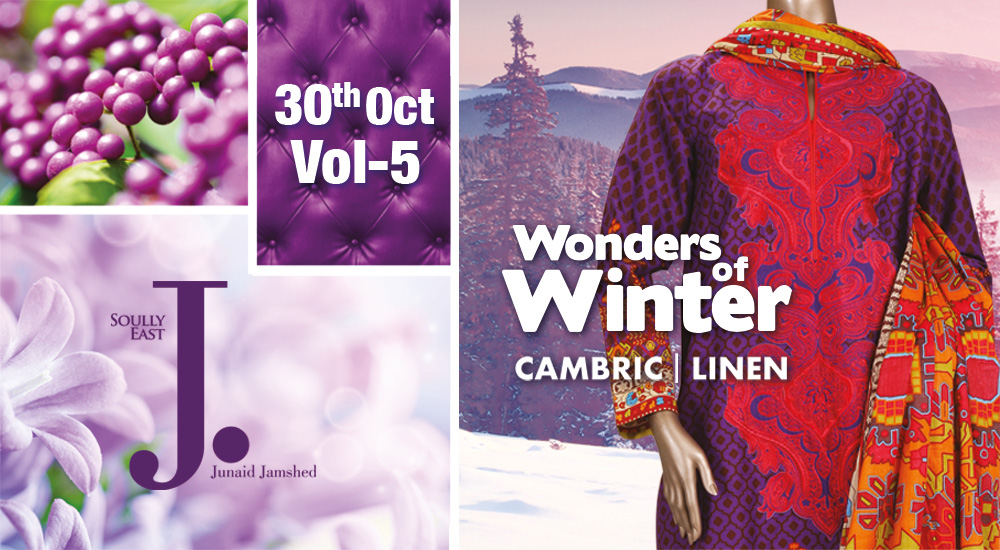 It's winter time, which means it's time to embrace yourself in the 'Wonders of Winter' with Junaid Jamshed Cambric/Linen Winter Collection 2015-2016. Just like every other renowned brand, Junaid Jamshed also offers a wide ensemble of flamboyant yet elegant patterns beautifully blended in hues of winter shades.
Junaid Jamshed Winter Collection 2015-2016 showcases exquisite hues of 3 piece cambric and linen dresses along with a tasteful assemblage of a 2 piece collection to don this winter season.
A chic blend of the Kurti collection, Digital shirt collection, Nairang (Woolen dresses) and Premium embroidered chiffon is also available.
Read more: Junaid Jamshed Luminous Luxury Eid Collection 2015
Junaid Jamshed Winter Wonders Collection was launched on 30th October 2015 online and in stores nationwide, paying tribute to the 'soully-eastern' clothing style. The collection showcases a unique design philosophy with unbeatable prints.
The price range for Junaid Jamshed Winter Collection 2015-2016 lies between PKR 1700- PKR 6000.
Let's have a look at the Junaid Jamshed Winter Collection 2015-2016 below;
View the categories of 'Wonder of Winter' by Junaid Jamshed Winter Fall Collection 2015-2016 below;
Winter Trios: The 3 piece Cambric Dress Collection encompasses an elegant and tasteful cambric fabric with prints like Tribal, Native Suzani, Hutsul, Mola Art and Floral.
Thress's the Charm: Junaid Jamshed Winter Catalog Linen Collection. Most attractive textures in linen dresses are Fleck, Turkish, Pottery, Ikaty etc.
Double Delight: 2 piece collection- 5-meter shirt with dupatta adorned with beautiful patterns and colors.
The Kurti Collection: This can be perfectly paired with lovely shawls and tights to optimize the winter chic. There is a separate Girl's Collection and Teens Collection as well.
Digital Diaries: A digital print collection exudes an aura of charm and versatility for every age.
Nairang: Loomed with perfection, this collection includes hand-woven jacquard fabric, perfect for this winter
The Junaid Jamshed Winter Wonders Collection 2015-2016 has been updated with 8 gorgeous new pieces to don this winter for a flaunting style. Below are the latest additions.
Visit the website here to make your online purchases.
Read more: Junaid Jamshed: Mid Summer Mania Collection 2015
Stay tuned to Brandsynario for more updates!