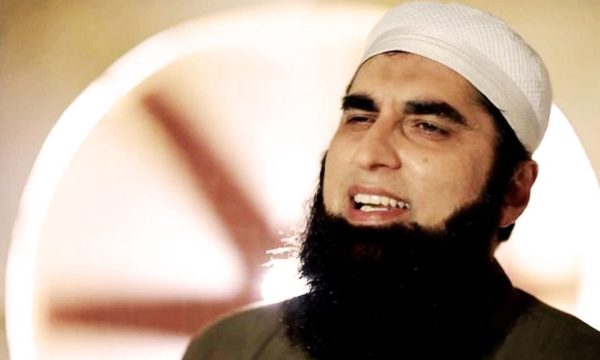 The renowned singer turned religious scholar, Junaid Jamshed is believed to be on board the ill-fated Islamabad-bound PIA flight that crashed near Havelian today, Wednesday. Junaid Jamshed and his wife were also passengers on the flight, confirmed Junaid Jamshed's brother. Reports reveal that the scholar's manager has confirmed that he has passed away in the crash!
According to Dawn News, Junaid Jamshed, and his wife's names were on the confirmed passenger list.
See passenger list below: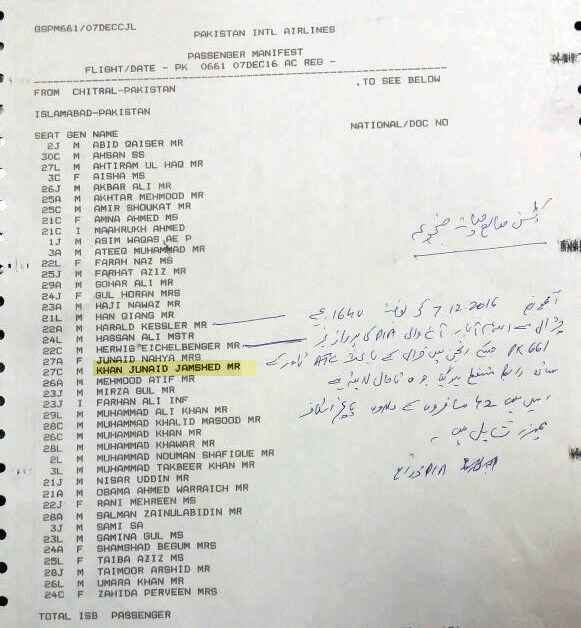 Rescue and relief operation has been started and there seem to be no chances of survival- 9 bodies have been retrieved until now.
Picture Courtesy: Dawn News
According to his recent update on Facebook, Junaid Jamshed was in Chitral on Saturday with peers:
[fb_embed_post href="https://www.facebook.com/mrjunaidjamshedofficial/posts/1207407095962306:0/" width="550″/]
Junaid Jamshed's close friends and fans are shocked and saddened by the news!
Celebrities like Qurat ul Ain Baloch, Shoaib Malik, Fakhr-e-Alam and others expressed their sorrow over the shocking news.
Junaid Jamshed has left us in the most devastating way. Shocked and heartbroken. #PIAcrash

— Quratulain Balouch (@Quratulainb) December 7, 2016
It is confirmed that my friend & neighbour Junaid Jamshed was indeed on the unfortunate flight. Allah have mercy. #PIA

— Fakhr-e-Alam (@falamb3) December 7, 2016
Request to TV channels- Pl don't show Junaid Jamshed's music life that he had left many years ago. Remember him as a preacher of Islam.

— Ansar Abbasi (@AnsarAAbbasi) December 7, 2016
My heart is drowning in sadness to learn about the air crash of Pia.. news feared my friends Junaid Jamshed and alay Akram was in it 2..

— Shoaib Akhtar (@shoaib100mph) December 7, 2016
Close friends of Junaid Jamshed saying he along with his wife was also traveling on PIA plane crashed coming from Chitral to Islamabad

— Hamid Mir (@HamidMirPAK) December 7, 2016
#BREAKING Singer turned entrepreneur Junaid Jamshed and his family was among passengers of crashed PIA Flight 661 #Chitral

— Mubashir Zaidi (@Xadeejournalist) December 7, 2016
Abdul sattar EDHI, Amjad sabri, & now junaid jamshed!! we lost many gems this year

— A.N.U.M (@AnumRizvii) December 7, 2016
Junaid Jamshed of Pakistan died in a plane crash in Pakistan.

— Fahad (@rjfahad) December 7, 2016
https://twitter.com/AsYouNotWish/status/806483246628401152
"Junaid Jamshed" Will be missed, He serve great to us, #Allah knows best. May Allah give him place in paradise
RIP!!! pic.twitter.com/IpTOeOGSNN

— Hania Baloch 🌐 (@HaniaSays) December 7, 2016
Ya Allah, still can't believe Junaid Jamshed. 😩 #PK116

— Waiza 🇵🇰 (@waizaahmad) December 7, 2016
Inna lillahi wa inna ilayhi raji'un.

Allah have mercy on the 47 dead from PIA flight PK 611, feared to include Junaid Jamshed and his wife.

— Abu Eesa Niamatullah (@Niamatullah) December 7, 2016
Flight manifest PK 661 Junaid Jamshed pic.twitter.com/4ma6UMNKS9

— Khurram Shahzad (@Khurramzinbox) December 7, 2016
According to the sources Junaid Jamshed was on board in the same flight with his Family which Crashed in #Chitral , Please pray for them pic.twitter.com/SSdMLzg5iy

— Ihtisham ul Haq (@iihtishamm) December 7, 2016
Allah Khair. Allah Khair. Junaid Jamshed was on the plane says his sister. Just spoke to her.Please pray for all passengers to have survived

— Meher Bokhari (@meherbokhari) December 7, 2016
Our thoughts and prayers go out to Junaid Jamshed, his family and all the passengers on flight PK-661! 
---
Pakistan International Airlines (PIA) aircraft flying from Chitral to Islamabad carrying 47 passengers crashed today, Wednesday, near Havelian, reports Dawn news.
PIA spokesperson, while talking to Express Tribune stated, that flight PK-661 disappeared from the radar once it took off. It has crashed near Havelian and
"We regret to inform that PIA's ATR-42 aircraft operating as PK-661, carrying around 40 persons lost its contact with the control tower on its way from Chitral to Islamabad a short while ago. All resources are being mobilized to locate the aircraft. Media will be kept informed as the situation develops," Danial Gilani PIA spokesperson said in a statement.