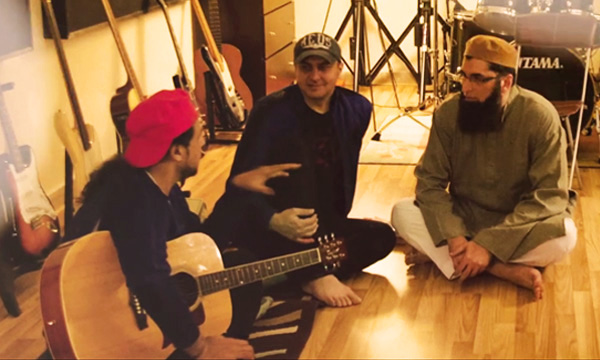 Salman Ahmad and Junaid Jamshed have teamed up to release a new song. The song is a tribute to the December 16 Army Public School Peshawar Massacre victims and casualties caused by the global terrorism threats.
Salman Ahmad and Junaid Jamshed will be releasing a new single in the upcoming months to pay tribute to the APS victims. Salman Ahmad while explaining the genre of the single revealed that the song not only pays tribute to the victims of the Army Public School, but it also supports other victims who have been endangered by terrorism across the globe.
"Only ISIS and terrorists of all colours, who wish to sow the seeds of division and discord between the East and West benefit from creating fear and uncertainty," he stated.
While revealing his ecstasy he added, "The words and music of Jazba Junoon, Dil Dil Pakistan and John Lennon's Imagine capture our feelings most accurately."
Junoon & Vital Signs' Chand Sitara Music Video to Release on Independence Day
Salman Ahmad while boycotting terrorism across the globe in a press release said, "As artists of conscience and as Muslims who belong both to the East and West, Junaid Jamshed and I unequivocally condemn terrorism in all its forms."
"We extend our empathy and condolences toward those who have lost their loved ones in terrorist attacks across the globe," he added.
Junoon & Vital Signs Reunion: Pakistan's Two Biggest Music Bands Re-United
Salman Ahmad and Junaid Jamshed together have also released Chand Sitara on the occasion of Independence Day, whereas Salman Ahmad was recently seen in the news for his upcoming release Man Kunto Maula, which will be featured in the movie Open Your Eyes.
Stay tuned to Brandsynario for further updates!