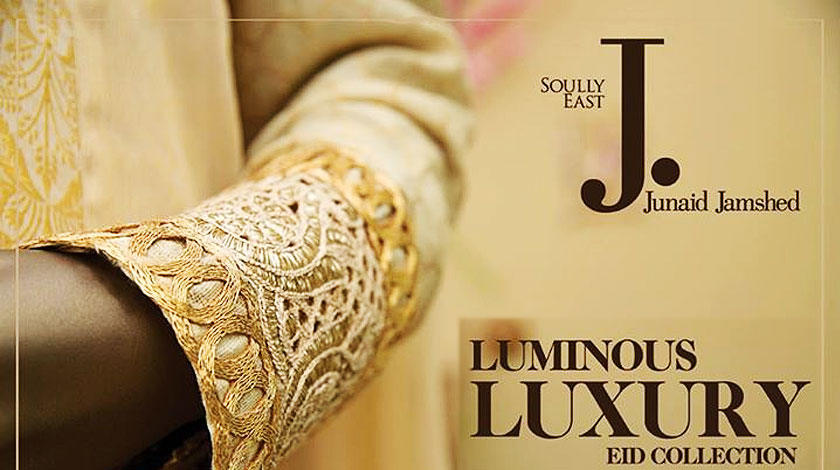 Amidst all the Ramazan & Eid preparations going about, J. or Junaid Jamshed as it is popularly called, has already launched its new collection named 'Luminous Luxury Eid Collection.'
See the complete collection below:
The collection consists of
3-Piece Chiffon Collection (Chiffon Charades)
3-Piece Lawn Collection (The Traditional Way)
3-Piece Silk Collection (Silk Serenades)
3-Piece Jacquard Collection (Love In Full Loom)
2-Piece Collection (Twice The Charm)
Kurti Collection (One Piece Wonders)
Pret Formal Collection (Pretty in Pret)
Teens Collection (Teen Trends)
Girls Collection (Young & Charming)
The prices of these collections are as under:
Chiffon Charades
Unstitched: Rs. 2500-Rs. 5100

Stitched: Rs. 3800-Rs. 6200

The Traditional Way

Unstitched: Rs. 2600-Rs. 3800

Stitched: Rs. 4000-Rs. 5800

Silk Serenades

Unstitched: Rs. 4100-Rs. 6000

Stitched: Rs. 5800-Rs. 7100

Love In Full Loom

Unstitched: Rs. 4000-Rs. 5400

Stitched: Rs. 5500-Rs. 7400

Twice The Charm
Unstitched: Rs. 2100-Rs. 2600
One-Piece Wonders
Stitched: Rs. 2200-Rs. 4200
Pretty In Pret
Rs. 10000
Teen Trends
Rs. 2300-Rs. 3000
Young & Charming
Rs. 1700-Rs. 4400
Distinguishing themselves by offering a variety of designs for an assorted audience, J. never employs human models in their advertising.
You can check out their website as well.
J. is ready with its charming prints and beautiful Eid collection. Are you?