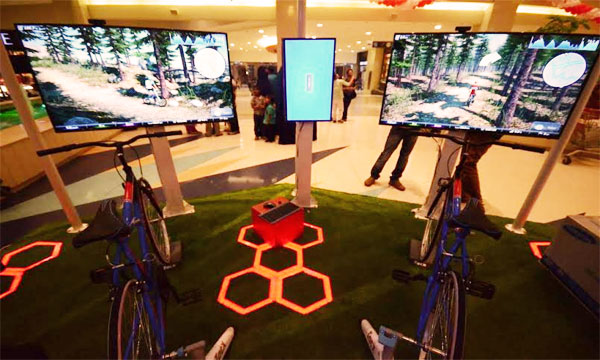 Jubilee Life, Pakistan's leading life insurance provider has launched a breakthrough product, which in addition to being a regular life insurance plan is also a savings plan that provides additional financial support and cover for the treatment of major and minor heart procedures. This is the first time ever that a life insurance provider has a product of this kind.
For the launch of this product, an activation drive was conducted at a local mall in Karachi, which pulled a crowd of more than 100,000 people over the three days duration of this activity.
The objective of this activation was to create awareness about heart illnesses and trigger the thought of getting a thorough cardiac health checked.
Here are a few images of their activity at Dolmen Mall.
The communication for this campaign was around creating the realization that one's cardiac health is an extremely important area to be concerned about. Therefore, the tagline used 'Are you at Risk?' The activity included bike rides for adults and children over 18 to check their heartbeat rate and adults' stamina as compared to young people.
Each bike rider was given a FitBit to monitor the heartbeat. Along with this activity, all consumers who came to the activation area were educated about the importance of life insurance, about cardiac diseases and what the plan entails.
Read more: PICIC Insurance's Sahi Faisla Ad: The Stark Reality of Life & Death
Cardiovascular disease is one of the most common causes of deaths all around the world. More than 17.3 million deaths occur globally due to various heart diseases and it is mainly because of the lack of proper medical care. In Pakistan, heart diseases cause 30 to 40 per cent of all deaths – with the annual death count up to 200,000 now.
More than 60 per cent of the total population of Pakistan is less than 25 years of age which means that the effects of cardio diseases are likely to exponentially increase as that group ages over the next 10-15 years. In order to combat the disease, Jubilee Life has introduced Cardiac Savings Plan so people who suffer from heart related illnesses can avail quality cardiac treatment without compromising on the quality due to financial constraints.
Read more: Nationwide Insurance – USA 'Life Comes at You Fast" Campaign
Stay tuned to Brandsynario for more updates!