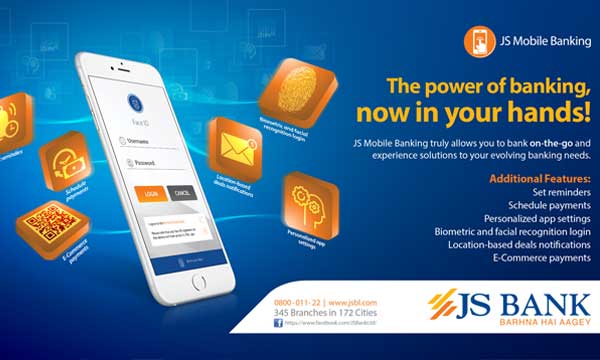 Technology for us has become the most dependable partner in today's busy world. As a result financial institutions have also adapted to the idea of digital banking.
Nowadays, people prefer to operate their personal and professional connections with a single click using their Smartphones. To bring a convenient, safe and reliable experience to their users, JS Bank has launched the most-awaited JS Bank Mobile Application!
Now, not only will JS Bank customers have all facilities available to them on their phones they can also avail more features that will add ease to their banking experience.
JS Bank Mobile Application Features
Here's what the application has to offer:
Online Bank Transactions
Bill Payment Facility
Scheduling Payments
Biometrics and Facial Recognition
Reminders and Scheduling of Payments
Personalized App Setting
Location-Based Deals Notification
JS Bank
Additionally, JS Bank's Mobile Application also offers many key benefits to its customers.
Merchants & Discounts
This feature allows customers to view location-based discount offers, receive push notifications, explore nearby merchants with available discounts, get merchant's location details and get direction from current location to selected merchant and a more within the app.
Set Reminders
Applications users have the option to set reminders if needed for transactions and/or to conduct an activity to be performed over the app.
Personalization
Users have the power to personalize the application and choose different color themes according to their liking.
Schedule Payments
The customer can schedule financial transactions on a start date, frequency (daily, weekly, monthly, quarterly, or yearly) and more.
Bill Payment
The customer can use the app to pay utility bills (electricity, gas, water etc.) from any linked account, Prepaid/top-up for mobile credit, mobile postpaid bills, internet service provider payment and bank's credit card bill.
How to Download JS Bank's Mobile Application
Downloading the new JS Bank Mobile Application is extremely simple and easy! All you have to do is follow the steps below:
Step 1- Open the Play Store Application
Open the Play Store application on your mobile phone. Tap on search and type 'JS Bank Mobile Application'.
Step 2- Install the Application
Once you spot the application, tap on Install and wait.
Step 3- Open the Application and Login
Once downloaded, open the application and register yourself.
Voila!
Get ready to explore a whole new world with JS Bank! Are you ready to experience the power in your hands?