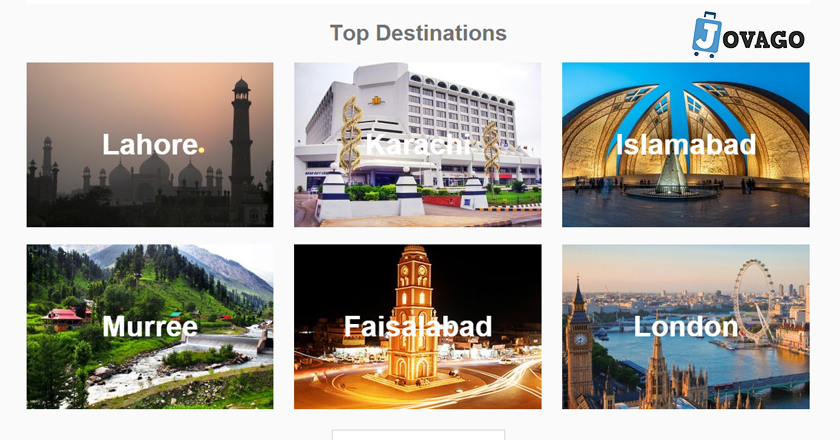 Promoting tourism and making the tedious task of booking hotels easier, Jovago.com, the largest hotel booking portal is all set to be launched in Pakistan.
A product of e-commerce giants, Rocket Internet, Jovago is an international venture that offers over thousands of hotels around the world for business and leisure customers to book online.
Rocket Internet AG, under its holding firm the Asia Pacific Internet Group announced the official launch of its hotel-booking platform, Jovago, in Pakistan. In a ceremony held at Mövenpick, Karachi, Jovago launched its online hotel booking service portal for the domestic travelers of Pakistan, thus revealing a wide variety of options to choose from while travelling.
The event also marked the launch of first ever 'Best Price Guarantee' which provides best price guarantee for more than 1,600 hotels in the country – the largest inventory of its kind in Pakistan. Travelers can take advantage of Jovago's Best Price Guarantee immediately from the time of booking to up to 72 hours prior to check in.
Speaking at the prestigious occasion, Nadine Malik, Managing Director Jovago Pakistan talked about the Best Price Garauntee stating that, "Best Price Guarantee gives to all of Pakistan's guests' peace of mind, allowing them to plan ahead, book early and get the hotel that they want without worrying that a better deal will come along after they've committed."
The entity has ensured customer support through a 12 hour customer service to book complete travel packages thereby facilitating the end consumer by providing an option of pre and post payment of hotel booking.
Paul Midy, CEO Jovago said, "We are extremely excited to launch this portal in Pakistan and see a great potential in vacationers and business travelers that seek convenience and cost efficiency in the nick of time. Jovago offers an extensive portfolio comprising of the most suitable options that our customers can choose from."
  He further added that, "For the first time in Pakistan, an online booking company is going to guarantee the cheapest hotel prices for all 1600 properties on the continent and a refund of the difference if customers find cheaper prices elsewhere on the internet".
 Beginning operations in 2013, Jovago has multiple offices in Pakistan, Nigeria, Kenya and Senegal. The website boasts over 200,000 hotels in 211 countries around the world including over 1,000 in Pakistan.
Jovago strives to provide tourists with a fast, reliable and easy to use service to book the perfect accommodation for their outings and vacations. The website is easy-to-navigate and features multiples options and tools, including the convenience of making a personal account to facilitate the users.
The picture shows Ms. Nadine Malik (center) Managing Director Jovago Pakistan along with other members of Jovago Pakistan at the launch event.
A user can search, compare and finally book the hotel or rental destination. The e-commerce website will be officially launched on 17th, March 2015 at Movenpick Hotel, Karachi.