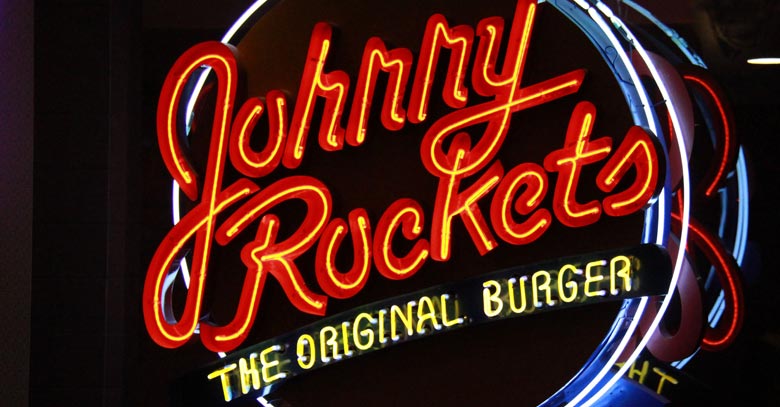 By Hassan Wasti
Karachi has become the hub for international fast food chains, the story which started with KFC and Mcdonalds has now added Hardees,Burger King, Fatburger and now Johnny Rockets to the list.
As a burger junkie I have kept track of all the burger joints in Karachi and up till now Fatburger tops the charts for me but with Johnny Rockets in town it looks like a tough debate out there on which Fast food chain has got the best burger in town.
So before Johnny Rockets formally makes it debut in Karachi heres what you guys might expect from it:
Johnny Rockets is set up as an old fashioned American Diner one which gives you a real life feel of the culture it promotes, so if you love to hangout in an all American burger joint then Johnny Rockets is the place to be.
 Menu:
Here is what we know about the menu it will be high priced but with one bite into their Chili Cheese Burger with their exclusive all meat chili and cheddar cheese with tomatoes and yellow mustard you will feel that your 700 Rs were worth spending.
The burgers at Johnny Rockets are classified as The Original Single or Double. The single will cost around 700 while the double will be valued at 900. We picked out top 4 Burgers that are a must try for all you burger junkies out there.
1. The Huston
Get ready to launch your taste buds with this spicy burger! Jalapenos pepper jack cheese with iceberg lettuce fresh tomatoes and Johnny Rockets original spicy sauce this one is bound to get you doing a round of Mexican salsa once you get done with it.
2. Route 66
This is one of the burgers that the masterminds behind Johnny Rockets hold close to their hearts, named after the iconic American highway it is a ride of pure pleasure till the last bite. Made with Swiss Cheese, Grilled Mushrooms, Grilled Onions and topped with Mayonnaise Route 66 is one highway that you won't want to miss.
3. Smoke House
If you think that was the end of your trip then think again, at number 3 we have got Smoke house, the burger with an exceptional blend of flavors of a  juicy beef patty placed with crispy onions rings, cheddar cheese and the very special 'Smoke House' sauce.
4. Rocket Pounder
The race for the bigger in Karachi is on and Johnny Rockets have their very own Pounder to tackle all the whoppers and Angus in the town. Rocket Pounder puts you up for challenge with three beef patties when you bite into this beef mania you can expect a shot of cheddar cheese, a chill from the iceberg lettuce and the freshness of ripe tomatoes topped with a special sauce.
Also on the menu is a delicious spread of starters which allows you to choose  from dishes like  American fries, Cheese Fries the good old American style Rocket wings and many other mouth watering products to get your appetite going.
The menu is complete with sandwiches and cheese steaks for one of those days when you feel like trying something new. See the menu here: