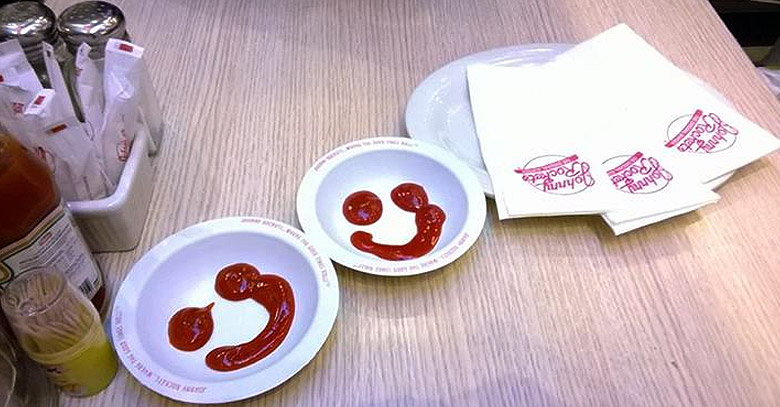 IN THE PURSUIT OF HAPPINESS AND FOOD
It is a typical Saturday night; the Karachites are well-aware of the maddening hurry of the 23 million residents who shrinks one of the biggest megacities of the world into unbearable traffic jams and unfathomable hustle. Still, tasting another famous American chain 'Johnny Rockets' seems a chore to be done sooner than later.
"It is food that brings us out", wonders the Karachite, "Those Hollywood-fed foreigners who think of Karachi as a Middle Eastern terrorist warzone, should try and spend an hour in the city on a weekend to get an idea of the real terror in hand".
We all love Food, which provides for the American fast-food chains insurgence like; Hardees followed by Fat Burger, Burger King and now Johnny Rockets, thus making up the entire International medley of fast food in Karachi along with the timeworn KFC, McDonalds and SUBWAY.
THE EXPERIENCE
The journey to find 'Johnny Rockets' ended at Dolmen City.
In presence of the other fast food giants up above on the food court like Gun Smoke's with its famous Steak, Burger King and its long queues, stereotyped KFC and OPTP outlets and some weird Biggest Bag competition on Butler's Café.
Johnny Rockets is one of the only two food spots in the aisle adjacent to Espresso; it is also the one with the best consumption of its franchise area.
The Karachite felt like a fresh escape as he got a view of something original to watch finally, the classic American ambiance that Johnny Rockets has been famous for. The floor of the franchise is divided into decks that give out a fresh look for a joint.
JR also introduces a bar-counter, made heavily famous by Hollywood movies. The same counter which has featured in old times when Agent Mulder used to crack the X-Files feasting on his fries to the modern day where Wolverine flips off Charles Xavier in X-Men First Class.
Thus being the reason why a lot of young fellows chose to sit on that exact same counter feeling like Hugh Jackman. 
As for the food, JR had more to offer than the appetite can keep. The all-American menu, twirled straws, decade-spanning music (classic jukebox) and dancing servers is a novel practice, and the fact that JR offered table services, was the cherry on top of the family-focused dining culture.
The order was placed – an original JR burger, fries and onion rings.
What came was both appetizing and flavorsome, however, it still lacked a little in contrast to recognized and premium burger joints like Hardees.
The experience as a whole was one to remember, finally environment rounded up impressive service. Johnny Rockets does have the potential to transmute the hectic day of a common man into an experience worthwhile.
Here is a rundown for those who wish to know which Burger Chain manages to impress the ever critical Karachite.