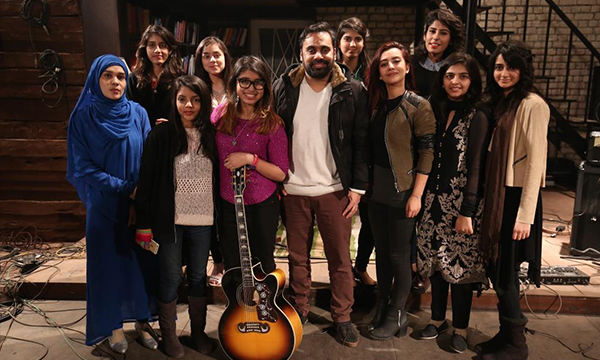 Nescafe Basement is going places with its latest season. Churning one hit after another, the underground music platform has garnered appreciation from International celebrities.
The latest Nescafe Basement version of John Newman's Love Me Again has been reshared and appreciated by the original singer himself. The  soul-pop sensation John Newman, Shared Nescafe Basement's version of his 2013 chart-buster 'Love Me Again'  on Twitter saying 'THIS IS SOOO DOPE! THANK YOU!!'
https://t.co/jPUx1SMHg5 THIS IS SOOO DOPE! THANKYOU!!

— John Newman (@JohnNewmanMusic) February 29, 2016
That's not all! Bollywood star, Ayushmann Khurrana also shared the link thanking Ali Zafar for introducing him to Pakistan's music.
Thanks @AliZafarsays for introducing me to this 👉 https://t.co/79iiAvvJkH #respect #pakistan #music #noboundaries #hatsoff 🙏🏻🙏🏻🙏🏻

— Ayushmann Khurrana (@ayushmannk) February 29, 2016

Love Me Again, originally by English musician John Newman, is a dance-pop number with hints of jazz and soul, which released in 2013 and became an international chart-topper.
Nescafe Basement has given the track a new spin by featuring only female musicians in their version, which is a first of its kind music production in Pakistan. The track features Maria Fatima on vocals and guitars, Kristin Kanaria on vocals and guitars, Anna Salman on vocals, Sanya Shahzad on bass, Sumera on tabla, Arfa on sitar, Janat Sohail on ukulele, Maham on keyboards and Mishal on drums.
The hit track has garnered a lot of appreciation as music aficionados shared their views on Twitter. See some of the reaction below:
It couldn't get any more AMAZING than this. #nescafebasement #LoveMeAgain
I am Addicted to it right now. pic.twitter.com/3hb1j8C8Wi

— Hassaan saeed (@HassaanSK7) February 29, 2016
Such a pleasant surprise to see "Females Only" performance. Brilliant idea. #GirlPower #LoveMeAgain #nescafebasement4

— Small Town Girl (@aroojakhtar) February 28, 2016
#nescafebasement4 #LoveMeAgain just stole it!!! @zulfiqarjkhan 👍👍👍✌️✌️

— Syed Taha (@itsSyedTaha) February 28, 2016
Incredible performance by an all female ensemble to @JohnNewmanMusic 's #Lovemeagain #nescafebasement https://t.co/VbSTNIePur

— Bollywood Film Fame (@BFFCmag) February 29, 2016