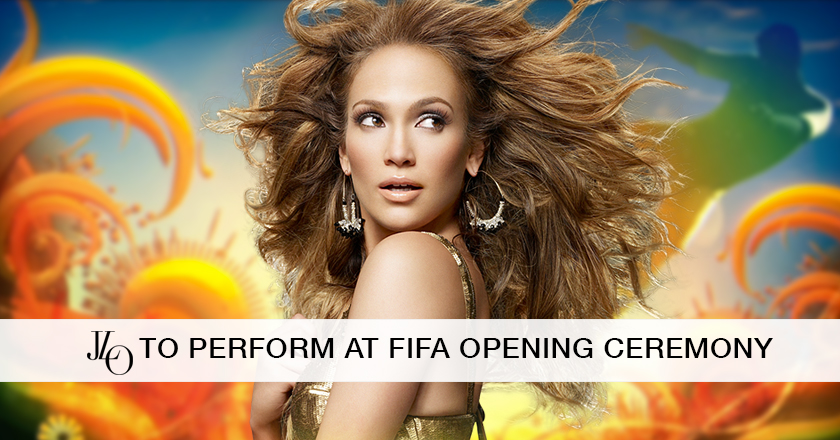 Jennifer Lopez aka JLo who sung the official 'We Are One' FIFA song ft. Pitbull and Brazillian singer Claudia Leitte is now on her way to perform at FIFA World Cup 2014 Opening ceremony, confirmed FIFA.
FIFA authorities earlier this week informed that due to "production issues" JLo wouldn't be performing at the opening ceremony of FIFA World Cup 2014. This news was further confirmed by JLo's official representatives.
The announcement of her not arriving at the event, made on Tuesday came as a surprise to JLo's fans who were desperately waiting for their superstar to make a dashing appearance at this year's FIFA World Cup opening.
However later on Thursday, the authorities announced,
"FIFA and the Local Organising Committee are delighted to announce that we will have the full-line up of stars available to perform the Official Song 'We Are One' this Thursday at the FIFA World Cup opening ceremony. This is exciting news for not only those spectators who should arrive early and see the show live in the stadium but also for fans all over the world watching on TV."
The Superstar however gave a bit different statement last night before leaving for her big appearance,
"I'm coming. I leave tonight. We always were going. I think people get anxious, especially with me and my schedule when I'm like, 'Ah, OK, I can leave this day, that day, I don't know if we can make it."
However the good news is that JLo is coming to Brazil and will be performing at the opening ceremony of FIFA World Cup 2014 at her latest sensation 'We are One'; which is definitely a treat many desire.
Watch the official 'We Are One' music video here:
Reports suggest that there will be around 60,000 fans waiting at Sao Paulo's Corinthians Arena to witness this most-awaited performance of JLo.