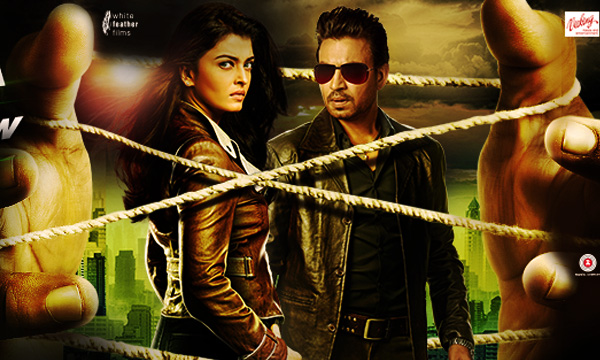 Aishwarya Rai Bachchan is all set to make her silver screen comeback today with the release of her new movie, Jazbaa, directed by Sanjay Gupta, starring the Former Miss World, Irrfan Khan, Shabana Azmi, Jackie Shroff, Atul Kulkarni Siddhanth Kapoor and Priya Banerjee.
The special screening held yesterday for critics and celebs have garnered mixed reviews so far with most criticizing the direction of Sanjay Gupta while praising the comeback performance of Aishwarya Rai Bachchan and Irrfan Khan.
Read more: Aishwarya Rai Turns Singer for Jazbaa Movie Song Bandeeya
A remake of the South Korean movie, Seven Days, Jazbaa revolves around a hotshot lawyer, with a perfect case record and a supermom, Anuradha Verma, played by the Aishwarya, whose daughter gets kidnapped.
[fb_embed_post href="https://www.facebook.com/JazbaaFilm/videos/506004149554775//" width="550″/]
The abductor wants Verma to fight a case for a convicted felon, who has been charged with rape and murder of the daughter of another woman, played by Shabana Azmi. Irrfan Khan plays the part of an ex-cop, Yohan, Anuradha's longtime friend with absolute disregard for rules and a penchant for OTT dialogues.
Read more: Aishwarya, Katrina & Alia Sizzle on Indian Magazine Covers
The movie barely touches the subject of rape, which is an unfortunate epidemic issue in India, all the while focusing instead on Aishwarya Rai's melodramatic reaction to almost everything, unconvincing hysteria and bloodshot eyes.
[fb_embed_post href="https://www.facebook.com/JazbaaFilm/videos/519288744892982//" width="550″/]
Her performance after the interval does take a turn for the better though, with Irrfan Khan joining her in the fight against time to save her daughter. Other lead actors while wasted in their roles in the movie, does do justice to them.
All in all, it's a one time watch, especially for Aishwarya fans.
Take a look at what critics and celebs have to say about the female-centric Jazbaa:
Dear Sanjay Gupta give me back 2 hours of my life I wasted watching (awful) #Jazbaa 😡 (You wasted a great lead cast & destroyed Korean film)

— Asjad Nazir (@asjadnazir) October 9, 2015
#Jazbaa is a great thriller, holding the audience till the very end.aishwarya is amazing,shabana ma'am is flawless n irfan😍

— Esha Gupta (@eshagupta2811) October 9, 2015
#Jazbaa also boasts of two stellar performances: Irrfan [outstanding] and Shabana Azmi [remarkable]. Two major strengths of this film.

— taran adarsh (@taran_adarsh) October 7, 2015
Aishwarya makes a stunning impact, conveying a gamut of emotions [grief, strong-willed, determined] with aplomb. Finest work so far. #Jazbaa

— taran adarsh (@taran_adarsh) October 7, 2015
Saw a fantastic film last nite #Jazbaa!! Proud n excited.. Take a bow @_SanjayGupta .. @AzmiShabana outstanding!!! Irfaan n Ash delectable!

— ROHIT ROY (@rohitroy500) October 9, 2015
Go watch #jazbaa superbly shot by @sam_arria great performances #AishwaryaRaiBachchan @AzmiShabana @irrfan_k full passion by @_SanjayGupta

— srishti arya (@shrishtiarya) October 9, 2015
Watched#Jazbaa for 1st time.congrats @_SanjayGupta 4 fast paced thriller that retains its strong emotional core.Ash is terrific n Irrfan 2

— Azmi Shabana (@AzmiShabana) October 8, 2015
So saw Jazbaa.. My view.. Amazing. Hard hitting. Brilliant acting, production, direction, dialogues, cinematography, Music. Good luck

— Sonu Nigam (@sonunigam) October 8, 2015
Sanjay Gupta's #Jazbaa has not just style but substance. Enjoyed myself watching it. @_SanjayGupta kept me hooked & thrilled till the end.

— Priya Gupta (@priyaguptatimes) October 8, 2015
#Jazbaa Movie Review- It is edge-of-the-seat thriller! Critic's Rating: ✨✨✨✨ http://t.co/ejOg3uXk20 pic.twitter.com/PYuWjNNhYt

— SubhashKJha (@SubhashK_Jha) October 8, 2015
Just watched #Jazbaa n it's a brilliant film. Sure shot hit. Sanjay Gupta has proved again tat he is a master director of action films.

— Kamaal R Khan-KRK (@kamaalrkhan) October 6, 2015