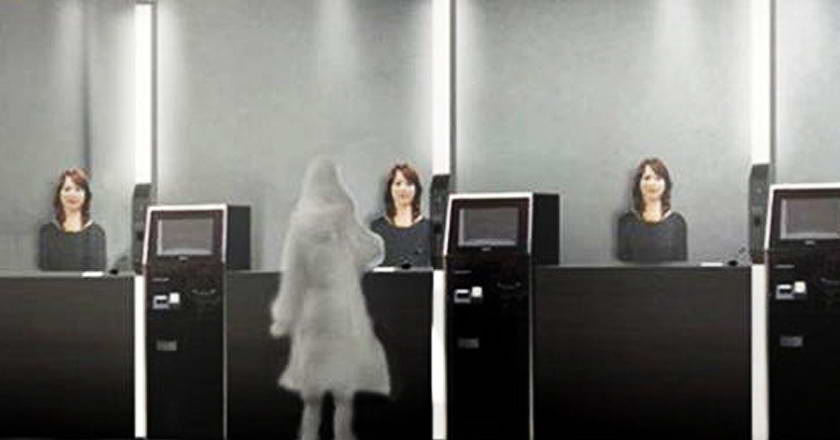 If you thought you had already experienced the ultimate level of luxury, you are wrong. A hotel in Japan is all set to serve you using robots, amping up efficiency for guests. Aptly named, Strange Hotel, Henn-Na in Japanese, the hotel will use robots as staff members serving as receptionists, cloak room attendants, waiters and cleaning staff.
The android-staffed hotel, with 72 rooms for now, will be operational by 17th July 2015 and if all goes well, there might be another part, opening in 2016. Fluent in four languages, the robots will resemble humans, carry out intelligent conversations with guests and pull off eye movements too.
The theme park for this particular hotel is named Huis Ten Bosch and has been modeled around the set up of a typical Dutch town, serving as a tribute to Netherlands. Using the robot revolution, the hotel plans to keep its operational costs low, translating it to lower room rates, around $60/night, as compared to other theme park based hotels. During peak seasons though, the rooms will be given to the highest bidders.
The robots are not all that is futuristic about this hotel. The new hotel will also feature facial-recognition technology instead of the traditional room keys/cards, room services and basic amenities access through tablets, automatic room temperature adjustment using body heat detection via a radiation panel and energy saving features like solar power to minimize overheads.
While talking about their tech savvy idea with Japan Times, the president of the company, Hideo Sawada, said, "We will make the most efficient hotel in the world. In the future, we'd like to have more than 90 percent of hotel services operated by robots."
For the more orthodox guests, the hotel also plans to employ 10 human employees for their hospitality. For others, our cyborg pals will be bleep blorp-ing their way to reception.