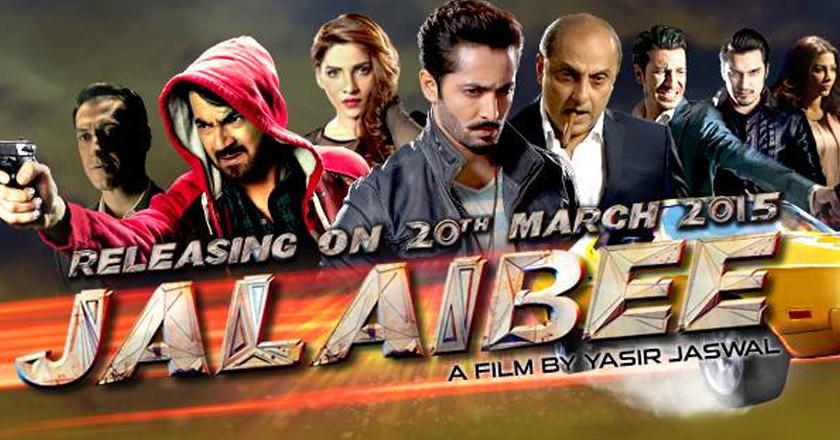 One of the most anticipated Pakistani movies, Jalaibee will finally hit the cinemas on 20th March 2015.
The announcement was made public by the official Facebook page's cover photo (see above) which is also the first theatrical poster of the movie. The movie's other posters were also released (see below):
The film's cast includes Adnan Jaffar, Ali Safina, Danish Taimoor, Uzair Jaswal, Wiqar Ali Khan, Zhalay Sarhdi and Sabeeka Imam. The movie is written and directed by Yasir Jaswal and produced by Eman Syed.
It will be the first Pakistani movie that has used state-of-the-art ARRI Alexa HD camera. The same technology camera was used to film hit Hollywood movies like Gravity and Ironman.
Read more: Zhalay Sarhadi to Do an Item Song in 'Jalaibee'
The movie will also boast streaks of animation. You can get a glimpse of it by viewing the first trailer below.
The first trailer of the movie was released a year ago which was played on 1st Ary Film Awards.
The film's story is based on the prevalence of local mafia and is focused on two friends named Billu and Bugga who struggle to pay back their debt to the local mafia.  As the story develops, the two friends will get chained up in complications and will group with Ali and Jimmy to avenge the mafia by planning to kidnap and kill the Mafia Lord termed as the King.
The action thriller will be a pure entertainment with ten soundtracks by Qayas, Uzair Jaswal and Humaira Arshad.
This looks like a valuable addition to the string of Pakistani movies that are scheduled to release in the coming year.