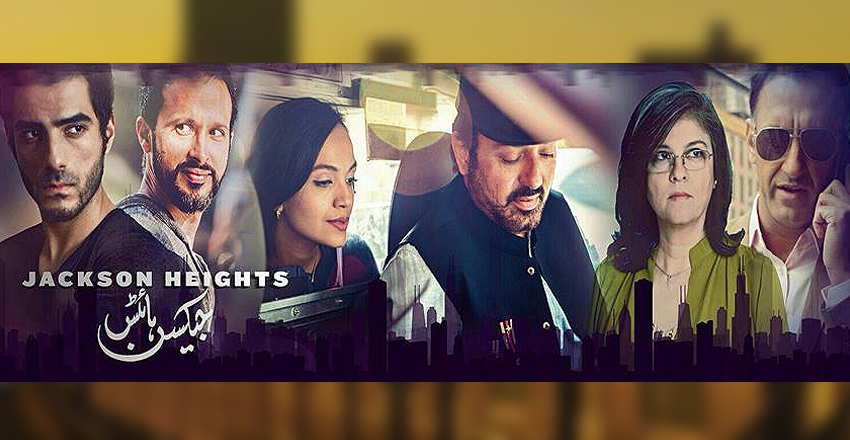 I had been waiting to watch this drama, ever since I saw the huge billboard up at Shahra-e-Faisal. Jackson Heights, produced by Mehreen Jabbar, of the Raamchand Pakistani fame, writer – Vassay Chaudry and actors Noman Ejaz and Marina Khan, I was quite sure that I would love the drama.
Other cast members of prominence include Amina Sheikh, Adeel Hashmi and Ali Kazmi.
The drama has had 4 episodes so far and I am quite hooked to it. It is set in the Jackson Heights Neighborhood of the city of New York and revolves around the lives of 5 desi's, struggling to set their lives in the city that never sleeps. The drama shows the typical mindset of PAll Postsakistanis, how they think everything is all rainbows and unicorns in foreign countries especially USA and how the same desis are struggling day and night to make ends meet once they are there.
The story starts off with Noman Ejaz's narration and continues to introduce one character at a time. Amina Sheikh is a hardworking beautician in NY, grabbing the smallest of opportunities to earn any amount of extra money offered. Her character Salma is quiet, a little shy and hints at having some serious problems at home.
Noman Ejaz plays the role of a taxi cab driver in NY, Imran Bhatt who is talkative, over-friendly and goes out of his way to help other desis set in NY, even those who are strangers. He is married to a rude American lady, who has two children of her own, for the sake of a permanent visa. While helping others out in NY, he also sends money and gifts back to his old mother in Pakistan, who he hasn't met in 15 years and his greedy brother and sister-in-law.
Adeel Hashmi, based in Pakistan, is introduced as Imran Bhatti's nephew, who is waiting for his US visit visa to come so that he can go and settle there. His character reflects the attitude of many young Pakistanis today who simply refuse to work hard in their own country and believe life would be a piece of cake abroad.
Marina Khan, back in NY, plays the role of Michelle, a divorced restaurant owner, who hates desis and is a loner. She hates socializing, is strict and bitter with everyone who comes across her and has an Indian best friend, Rizwan, who loves her.
These characters are all entwined with each other somehow. The acting of the entire cast is amazing, including that of the supporting cast members : Imran Bhatti's family, Rizwan and Amina Sheikh's boss, but the one who steals the show with his acting is Noman Ejaz. He is simply brilliant as Imran Bhatti, with his helpful nature and broken English, he comes across as funny without appearing crude or cheap. Acting by Adeel Hashmi, as a man with unachievable dreams is quite commendable too.
Four of the episodes of the drama have already been aired but Ali Kazmi is still a no show. I am guessing he might be Amina Sheikh's husband, since all other characters have their story already laid out.
The drama is well scripted, but that's no surprise since Vassay Chaudry has always delivered brilliant pieces of work. However, the story seems a bit predictable so far. We all know that most of our dramas end with characters living happily ever after. Only few of the dramas have realistic endings where perfection is simply not part of the life. Let's see how this one turns out.
Even if you are not a fan of dramas set abroad or any of the cast members (don't know how that would be possible), you should still give this drama a try. The acting especially that of Noman Ejaz is simply amazing to watch. Plus, the drama is like a fresh breath of air, with almost every other channel airing dramas revolving around extra marital affairs, saas-bahu issues and Islamic issues that have no credibility in Islam.
Jackson Heights is aired every Friday at 8 pm on channel Urdu 1.