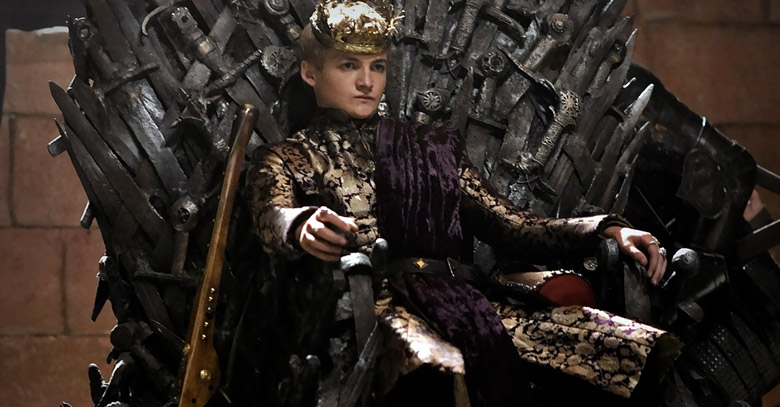 Joffrey Baratheon, All of the Game of Thrones fans hates thee, don't we?
At least that is what HBO and ad agency 360i are counting on as they begin an online campaign that says #RoastJoffrey. 
The idea is for the 'Game of Thrones' fans to have a revenge they so desperately longed for, a chance to put the despicable young villain in his place.
Billed as the first ever "internet roast," the social-media campaign launched was launched last week. HBO hopes it will become the hub for those wanting to spew venom at the show's creepy young king, who, according to data culled by 360i, is the most-hated villain on social media.
According to Sabrina Caluori, VP-digital and social media at HBO, last year's "Red Wedding" episode, which featured the over-the-top bloody deaths of some of the show's most beloved characters, inspired this effort.
It was HBO's most-social show ever, with the highest volume of Twitter conversation of any of the network's programs, she said. "That really cemented 'Game of Thrones' in the cultural zeitgeist, so we were looking for ways to engage fans in the off-season. We tasked 360i to think of unique ways that weren't tied to the plotline that could continue to make noise with our fans."
Everyone hates Joffrey
Working off that basic brief, 360i jumped on a bit of insight it found about 'Game of Thrones' fans: that although their loyalties may diverge, if there's one thing they agree on, it's their hatred of Joffrey. In fact, according to data pulled from the Sysomos Map Social Listening Tool, the agency and HBO found that Joffrey is the most-reviled character on social media. 
Over a period of almost a year, "if you tie the word 'hate' to a character, you can find 30,000 mentions of Joffrey's name," said Ms. Caluori. Joffrey's association with "hate" is 3.5 times higher than any other TV character, outranking Walter White from "Breaking Bad," who came in second.
The agency decided then, what better way to celebrate such a vilified character than with what it bills as the first-ever internet roast. "We thought about what we could do that would put fans at the core of participation — with this idea, we immediately knew we had something," said 360i Chief Creative Officer Adam Kerj. "There are so many hardcore fans, there's social spread built into the idea."
The campaign kicked off this morning with a YouTube intro video and an HBO tweet of a pic depicting a particularly evil-looking Joffrey with the message "Payback's a Wench" and the hashtag #RoastJoffrey. The best bits of the roast will be filtered into a single feed appearing on RoastJoffrey.com.
The agency and HBO worked hand-in-hand to create content to help fuel the fires of the roast, which will be seeded on social media through the 48-hour period. "The biggest challenge with an idea like this is getting everyone in alignment, from the emcees to celebrities and social-media talent," said Mr. Kerj.
HBO tapped "Game of Thrones" actors like Maisie Williams (Arya Stark) and Kristian Nairn (Hodor), known for being active social media, to create seed content during downtime on the set. "The one interesting thing we learned is that a roast is a very American concept, but a lot of our talent is not American," said Ms.Caluori. "That was a creative challenge explaining the concept of a roast, but once they got it, they had a lot of fun."
Outside of show talent, the HBO has also reached out to celebrity fans, inviting them to take part in the roast. 360i also worked with social-media creators like the Funny or Die filmmakers behind series "Gay of Thrones" and Vine/Instagram filmmaker Megan Cignoli to make additional content.
The campaign extends to college campuses and HBO brand ambassadors at colleges nationwide, including USC, Florida State and Georgia Tech. They will help lead late- night Joffrey Roast study breaks, during which they'll serve java in Joffrey coffee sleeves and invite fans to roast the King against a backdrop of life-size throne decals. The campaign also has a global component and 360i has created a how-to graphic for HBO counterparts in other regions, including Latin America.
As for Joffrey's own participation in the event, the actor who portrays him, Jack Gleeson, is well-known for being an especially private person and declined to participate after HBO reached out.
Till date, 62,657 roasts has been counted. Nevertheless, 360i will be creatively repurposing "Game of Thrones" content to make sure that Joffrey will be there to respond to the jabs.