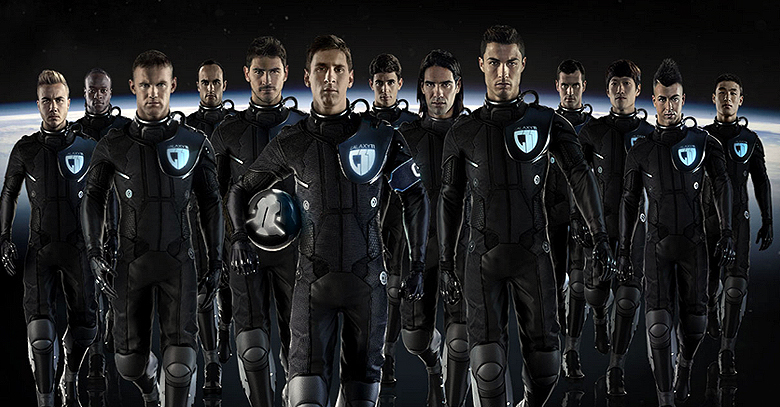 By Hassan Wasti
A few months back Samsung's campaign 'Winner takes earth' stirred a lot of excitement in the social media when curious fans on Facebook and Twitter tried to decipher what the campaign was all about, but they remained clueless about its details.
The wait however is finally over as Samsung has revealed its master campaign 'Galaxy 11', assembling the dream team for soccer to go up against the mystery alien species.
A star packed roster featuring 13 world-class footballers is announced by Samsung electronics to defend earth in a virtual football match against the aliens.
The campaign will unfold a detailed storyline which is nowhere near complete. The announcement of the team was only the first part of the much awaited marketing gimmick and more is expected as the campaign proceeds.
The officials have stated that the campaign is designed to engage people all over the world and as it proceeds fans participation will become its integral part.
Samsung has played its cards right by targeting the 2014 World Cup; the 13 players are recruited from different countries which gives it a global campaign. By bringing together the likes of Lionel Messi, Wayne Rooney and Cristiano Ronaldo, Samsung has entertained fans of each of these high profiled athletes.
Samsung maintains the hype of this campaign and keeps reminding its fans from time to time that this gimmick represents the promotion for its latest gadgets, including the Galaxy Note 10.1, Galaxy Note 3, Galaxy Gear and Galaxy S4 Zoom. 
Samsung has spent outrageous amounts for the promotion of its products before but this campaign tops the charts. Teaming up Messi and Ronaldo is a dream for any football club in the world but looks like Samsung has beaten them by showing that it will cross any lengths to promote its gadgets.
Now that the ultimate team is complete, the future ads will surely show Messi and Ronaldo facing off against the alien species, so keep a lookout for the most thrilling match in the entire galaxy.
See the innovative video below: