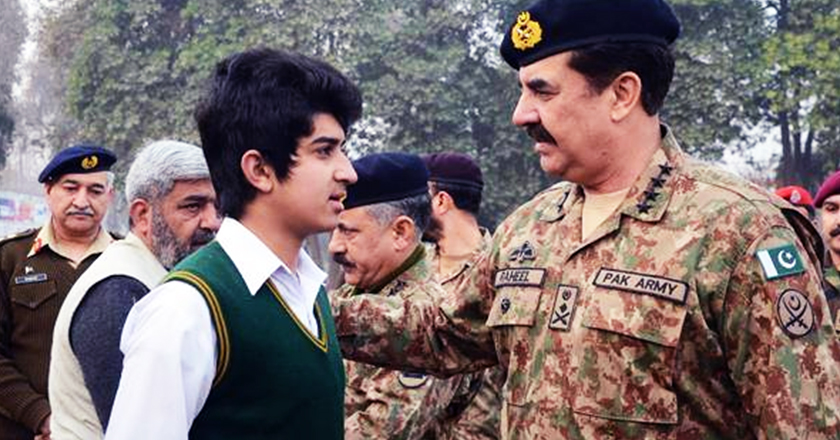 The Inter Services Public Relations (ISPR) released a song in tribute to the Army Public School attack victims when the Army Public School reopened on 12th January 2015.
ISPR is a platform which broadcasts and coordinates military news and information to Pakistan's civic society which is currently running under Major General Asim Saleem Bajwa as the director-general.
The video showed children clad in Army Public School uniform that were full of enthusiasm and courage and breaded patriotism by showing the upholstering of the Pakistan's flag.
The deadly attack on Army Public School Peshawar on 16th December 2014 killed 141 people of which 132 were school children and 9 staff members including the principal, Tahira Qazi. Tahira Qazi  persistently kept calling and informing the parents about the attack and hid the students until she was mercilessly killed by the terrorists.
The opening of the schools was met with mixed emotions; some parents were reluctant to send their children back to school and some students who had survived were determined to complete their studies from the same institute. Anas Khan, 8th grader said while talking to Dawn.
"Come what may, I will go to my beloved school. My six friends are no more with me but I shared their cherished dreams. If I cannot become all they had planned, at least I can carry on their dreams. Maybe, I am able to fulfill one and achieve the target they had set for themselves,"
Raheel Shariff visited Army Public school along with his wife and praised their spirit and bravery and participated with the students in the morning assembly.
Watch the full song:
Post the attack the school was renovated and security system of the school was improved according to the standards specified by the government. The schools which did not meet these standards were not granted non-objection certificate (NOC) and were not allowed to re open after the winter break.