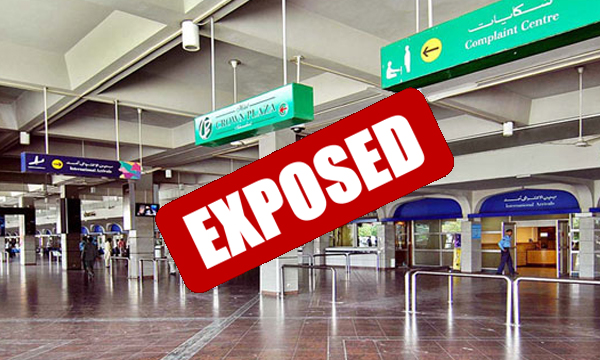 A new video of the scuffle at Islamabad Airport has been leaked on social media, that has created a twist in the controversy. While earlier the female FIA official was being bashed for assaulting the Norwegian nationals, seems like the brutal fight was first started by the passengers themselves.
The CCTV footage has made it pretty clear that Haseena Begum along with her daughter, Fouzia and Fatima Umer misbehaved with the FIA representative. What is more, one of the passengers has been spotted snatching the cell phone of a male FIA official.
The video exposes the visitors who were chanting slogans of "Pakistan Ganda"  & threatened the airport staff by saying "Ab Mein Hashar Karungi apka"
Last week on Saturday, the fiasco broke at Benazir Bhutto International Airport, apparently due to the absence of tissue papers in the restrooms. Earlier, the video of the scuffle has made its way on social media, showing two ladies being beaten by a female immigration officer of the Federal Investigation Agency (FIA).
According to the Express Tribune and the Geo News, Norwegian national Haseena Begum along with her daughter, Fouzia and Fatima Umer were at the Islamabad Airport to board a flight to Norway.
A heated argument erupted between both the parties, allegedly on the demand of tissue paper that later lead to a clash at the airport.
When the passengers lashed out at the FIA staff, the female official started to beat the troublemakers!
Watch the video of the female passengers being thrashed at Islamabad Airport here!
#FIA respecting ladies at Islamabad Airport and then pleading innocence making s case against victims. pic.twitter.com/xw1578PVKD

— محمد ع ل ی (@muhammad_al_i) April 18, 2017
Islamabad Airport: Female Passengers Attacked For Demanding Tissues
Stay tuned to Brandsynario for more updates!