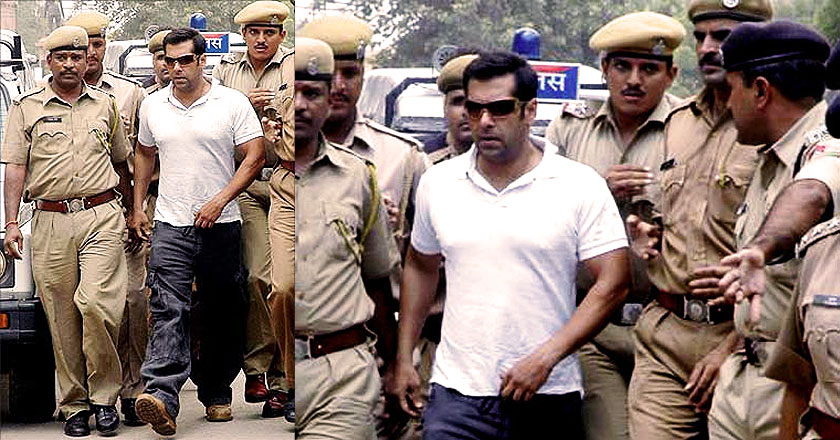 The entertainment world suffered a huge meltdown as the news of Salman Khan's 5 year imprisonment made waves for the 2002 hit and run accident.
Over 13 years ago, on 28th September 2002, Salman Khan, in a drunken stupor, ran over five homeless people, sleeping on the footpath of the streets of Mumbai, killing one and seriously injuring three. While the actor claimed that it was his driver who was behind the wheel, the court has accused him of culpable homicide.
But in a land of millions, where Bollywood glitz holds far more power than law and justice, the question arises if Salman Khan has a chance to escape 5 years of imprisonment?
For the next two days, the Bollywood superstar is on interim bail.  According to reports, the Indian High Court will hear Salman's appeal on Friday, May 8th; if granted, the next hearing can be delayed for at least a month as the court will go on a month's summer holidays returning on June 8th.
If the High Court upholds the current verdict, the actor still has the right to appeal to Supreme Court before being physically imprisoned. The case can then be dragged on for years during which Salman can still act and remain free but will not be allowed to travel overseas.
Commenting on how long the case can be further prolonged, Dina Dattani, a legal consultant who works with the Indian entertainment industry said, "A lot of the lawyers here have found ways to prolong the process further, by filing objections and appeals against every order that's made. All of the lawyers are aware of what the loopholes are and how it can be dragged out."
Dattani added that this extra time buys the actor a chance to further improve his image.
"Salman Khan went from a bad boy to a good human being, doing the right things, setting up a charity, doing lots for charitable organizations and causes, which actually then quickly turns your image around. The image here counts a lot in terms of how the lawyers represent you and the judges view you."
Dattani commented that it takes anywhere between three and 15 years for cases to reach a conclusion and that there is no fast-tracking of cases, no matter how serious they are.
However, assuming that the law rules above celebrity power and the Dabangg star goes to prison, Bollywood would suffer an approximate loss of 31 million.
His die-hard fans around the world along with Bollywood fraternity stand in solidarity and have declared the verdict 'unfair'.  See their Twitter reactions below:
It doesn't matter what anyone or any court says he doesn't deserve this at any level…will stand by @BeingSalmanKhan no matter what…

— Arjun Kapoor (@arjunk26) May 6, 2015
Shattered after hearing the verdict. Hope the court sees @BeingSalmanKhan has helped & saved hundreds of people over the years. #beinghuman??

— Preity zinta (@realpreityzinta) May 6, 2015
Salman Khan pays the price of being a superstar…got a more harsh jugdement than comparable cases quoted @BeingSalmanKhan

— Priya Gupta (@priyaguptatimes) May 6, 2015
Alistair Pereira gets 3 years for accident that killed seven people. Salman Khan gets five years. Paying a price for being a celebrity?

— Sarita A Tanwar (@SaritaTanwar) May 6, 2015
It hurts when your own are punished, even if they are in the wrong. We love you and are standing by you

— Alia Bhatt (@aliaa08) May 6, 2015
It would be inappropriate to comment on the court's decision but my thoughts and prayers are with Salman bhai and his family.

— soha ali khan (@sakpataudi) May 6, 2015
The Kapoors are with the Khans in their difficult time. Time is the biggest healer. God Bless!

— rishi kapoor (@chintskap) May 6, 2015
???????? Nothing else to say..Except stay strong @BeingSalmanKhan ..like u always have..

— Sania Mirza (@MirzaSania) May 6, 2015
It is heart breaking to know that your son ur brother is not coming home #salmankhan my heart goes out for salman… http://t.co/mIwWRaOuhg

— ? Dolly Bindra ? (@dollybindra) May 6, 2015
I can only respond emotionally just now…my thoughts and prayers are with Salman and his family today….I wish them strength….

— Karan Johar (@karanjohar) May 6, 2015
@beingsalmankhan "U never realise how strong you are.Until being strong is the only choice you have"More strength n power 2him n his family

— Sidharth Malhotra (@S1dharthM) May 6, 2015
There is an enormous difference between being a criminal and being human. True justice is then served. Keep d faith @BeingSalmanKhan

— sushmita sen (@thesushmitasen) May 6, 2015
People seem kinda sad about Salman khan being convicted:how about directing sadness to the ones who lost a family member or DIED? #justice

— Nida Butt (@Nidabutt9) May 6, 2015
Would #SalmanKhan ever hit & run as a movie hero . I don't think so. #SalmanVerdict

— salman ahmad (@sufisal) May 6, 2015
The govt should be responsible for housing ppl.If no 1was sleeping on d road in any other country Salman wuld not have driven over anybody.

— Farah Khan (@FarahKhanAli) May 6, 2015
Suicide is crime so is sleeping on footpath..80% homeles film ppl strugld achievd stardom but never slept on footpath @BeingSalmanKhan

— abhijeet (@abhijeetsinger) May 6, 2015