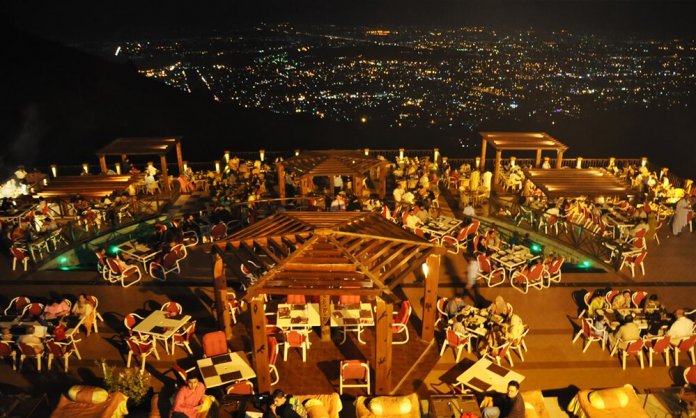 The news of Monal Restaurant, Islamabad closing down has caused a major uproar on social media.
According to rumors, the upscale eatery in the capital has completed its 15 years of the lease with Capital Development Authority (CDA).
The restaurant was claimed to be on a monthly rent of Rs 2.6 Lacs and was accused of never paying the amount to the CDA.
Islamabad's Leading Eatery is Now Coming to the City of Lights
The viral post created a frenzy on the internet and weaved an air of confusion!
SAD UPDATE ….MONAL IS NO MORE. Monal is closed by today permanently.
CURRENT VIEW OF MONAL ISLAMABAD WILL BE MISSED

— M Junaid Qureshi (@junaidhug) September 30, 2018
Guys is Monal still serving at Pir Sohawa ? Can anyone please update? Is it really shut? #Islamabad

— Mir Qais Khan Jamali (@qaisjamali) September 30, 2018
Is this true? End of road for #Monal #Islamabad #CDA pic.twitter.com/Sq9Q9KQdkF

— yasirgkhan (@yasirgkhan) September 30, 2018
It was a restaurant made by CDA and handed over to Monal authority, contract ended, May give the contract to some other party to run the restaurant under new name maybe. They are not gonna destroy it though.#GhazwaeHind #DonateForDamFund #Islamabad #Pakistan pic.twitter.com/CmCS4ImUn3

— Usman Mehmood (@iamusmanM) September 30, 2018
However, a recent statement by the Monal Group of Companies has cleared the air regarding the matter.
Shutting down all rumors, the management has ensured that Monal will continue to welcome foodies in Islamabad and from all over the world.
The management of The Monal Group of Companies would like to clarify that the rumors circulating regarding The Monal, Pir Sohawa are completely baseless. There is neither any issue with any government department nor is the premises being shifted anywhere. We would also like to reassure our patrons that they will continue to enjoy high-quality food service and entertainment at The Monal as usual In Sha Allah.
Over the past months, a similar news of Do Darya shutting down in Karachi also left its fans heartbroken.
Rumors were rife that DHA had issued a warning to the restaurant owners to wind up their business.
While there were some that reports that a new sports complex and entertainment center was being planned at Do Darya; other reports cited that the land has been taken by a foreign investment group to construct underwater restaurants and high rise buildings.
However, it seems, the matter has died down as Karachiities are still enjoying the fine cuisine along with the stunning view of the sea.
Such restaurants in popular cities of Pakistan are the lifeline of our culinary landscape and hence, they must always continue to thrive and flourish.
Stay tuned to Brandsynario for more updates.