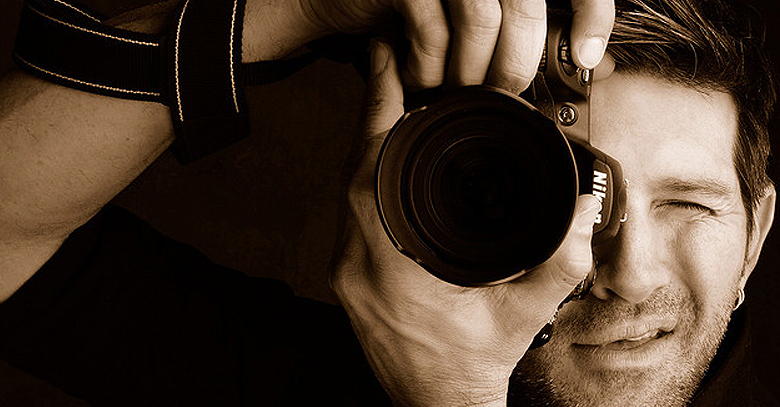 By Maria Mahesar
Fashion, up till a few years ago never enjoyed acceptability as a separate entity in the eyes of the public. It was merely treated as a way to add a touch of glitz and glamour to your overall look to become every woman's envy and every man's desire.
The Past
The acceptability of fashion in the later years, late 70s to mid-80s to be exact, has resulted in the slow but steady growth of fashion photography in Pakistan today.
Fashion photography mainly gained recognition as a separate line of profession in the early 80s with various publications coming into existence. This development brought some great photographers into the limelight, even making the likes of Arif Mahmood and Ather Shehzad household names.
These fashion photographers reached new heights of success with sheer hard work and determination; without any kind of governmental support or institution to train them.
Many believe that some of the best work was actually produced in this era despite the many constraints and lack of media avenues. More research, time and hard work were invested by fashion photographers in making their work stand out.
Student's Perspective
Contrary to the past, today we get to see a profusion of fashion photographers entering the business every day. With more training institutions opening up, media boom and general acceptability of fashion in Pakistan, many believe the quality of work has gone down while the quantity has increased immensely.
Where the concept of the shoot played a pivotal role in determining the model, location, hair and makeup; today we often get to see other elements of the shoot such as accessories, unnecessary addition of props and inappropriate locations overshadowing the main focus of the shoot i.e. the brand.
So as I embark on this journey to discover more about fashion photography in Pakistan, I first decided to meet young university students at a local café in Karachi to understand their stance on this subject.
"Fashion photography these days seems to be more about using expensive equipment and modern techniques studied abroad"

– Zan Gilani.

"I'd prefer if fashion photographers today focused more on capturing the model's personality so that any other elements in the composition complement rather than undermine it"

he said with annoyance in his eyes.

"Because of fashion photography, people's perception of beauty has changed and now it is more about admiring artificially constructed beauty rather than admiring and celebrating natural beauty," said another young university student Omar Farooq Butt.
Photographers' Perspective
Clearly the young generation has reservations of its own about the current state of affairs in the fashion photography division. But what about the fashion photographers themselves, how do they perceive the current trend in photography?
With the youth of the country pessimistic about the future, I couldn't help but wonder what they had to say about this issue.
I first met Kohi Marri, a noted fashion photographer in Pakistan and a dear friend. He is someone whom I would like to describe as realistic and original. His work speaks louder than words. Kohi is known for speaking his mind and down to earth personality.
"The 1960s and '70s was a very experimental stage in the history of Pakistani fashion photography", said Kohi, "Since photography was new, a lot of time and hardwork was invested in understanding this form of technology, but it is the hard work of these pioneering photographers that provided a platform for those like me to easily enter the business. The work that they produced so many years ago is a good point of reference for me when looking for inspiration, since it was produced after much research, thinking into the concept and execution to compliment the personality of the brand."
With fashion photographers these days in a rush to incorporate almost everything in their shoot, why do we lack "focused shoots"? "In the past the options in terms of technology, models, media, accessories, hairstyles and more were limited.
Today we not only have more options but we have more room to play with creativity. But with more opportunity comes more responsibility and more reasons to shoot with consciousness. While there maybe a few overdoing the look and feel of the shoot there are many who strike the right balance."
Previously photography involved a few faces with more focus on their glamour appeal compared to present times. Currently, trends in apparels and accessories are the main focus other than just the face. "The options were limited previously. Accessories had not grown as elaborately as they have today. Hence, the photographer had no option other than the model to make the product standout. Today, we have many options and have a large team to work with", said Kohi. "Depending on the nature of the shoot, I prepare the shoot accordingly to give fair amount of importance to each element. For me, everything must compliment and not overshadow the brand."
So globally what are the trends making waves in fashion photography and how much of this is reflected in Pakistan? "There is a lot of technological development taking place and I always try to keep myself updated and implement it in my work. These days most know what's happening in the international scene, thanks to digital media", he said.
After Kohi, I met a relatively new, young photographer with a distinct style who has made an impact at a very early stage of his career. Ayaz Anis is a young, vibrant, versatile and noted fashion photographer, and in a short span of time, he has showcased some outstanding work and has earned the nick name of a chameleon for his experimental style of photography.
"Back in the 60s and 70s, photography was more of a hobby than a profession", says Ayaz. "Fashion barely existed and the idea of a shoot was merely people getting together to have fun with fashion."
A lot of people say creativity in Pakistan prevails in times of hardship and lack of opportunities. "I agree with you but there are some fashion photographers like me who believe this is probably the best time for us to utilise all available opportunities in terms of technology, diversity of brands, more acceptability of fashion and more. While for many, hard times may serve as a wakeup call, for me everyday serves as a new reason to produce quality work."
Today we have more fashion photographers in number that surpass the quality of their work that's because almost anyone and everyone can enter the business and they take up each and every project offered to them without much thought or consideration. In order to help our industry grow, we'll have to first learn the art of photography and most importantly keep the passion and love for photography alive at all times. Its only when you love something, you'll never compromise in quality and will always keep its interest at the heart of everything you do.
How does Ayaz compare the fashion photographers of yesteryear to those of today? "They indeed paved the way for photographers like me but at the same time I believe each one of us today has made a name for ourselves with sheer hardwork, commitment and distinct style of creativity. Today we are more open to new ideas, easily adapt to the ever changing moods of the client and most importantly keep ourselves more aligned with global trends in photography."
The Coming Years
It was not until a few years ago when glamour played an important role in fashion photography. Today trends in apparels and accessories are the focus other than just the face. "I believe today we have more areas within a shoot to play with besides the face of the model and if played smartly we can incorporate some new, innovative ideas. Also, a number of designers like Sonya Batla and Deepak Perwani encourage us to be experimental while planning and conducting shoots", said Ayaz. "Times have changed. Back then the options were limited but today we can do a lot to make our shoot standout."
"Instead of complaining it's important to think of more ideas to bring about a change in the industry", Ayaz replied to my question about the future of fashion photography in Pakistan. "What has been done is history and what will now be done will open a new chapter of prosperity and growth. I believe the youth can play a big role in changing the game of photography altogether and help this industry flourish."
As my journey comes to an end, I realise what you have caught on film is captured forever. It remembers little things, long after you have forgotten everything. It is indeed an art of observation. It's about finding something interesting in an ordinary place. After meeting two extraordinary photographers I've learned that it has little to do with the things you see but everything to do with the way you see them. It's good to learn from the past but important to learn from the present. There is only you and your camera. The limitations in your photography are in yourself, for what we see is what we are.