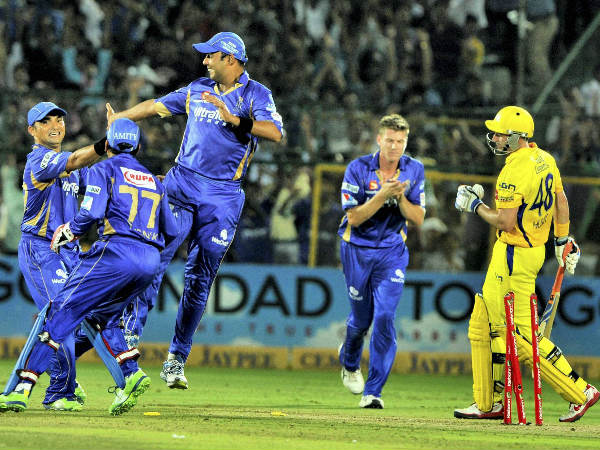 IPL's most consistent team, Chennai Super Kings along with Rajasthan Royals have been suspended from the cash-rich cricket league for a period of two years due to betting activities of their key officials Gurunath Meiyappan and Raj Kundra.
A three-member committee was appointed by Supreme Court which was headed by former CJI R M Lodha that said that the betting activities of these two key officials of two of the great teams of IPL have brought cricket, BCCI, and IPL into disrepute. Sanctions were also imposed by the committee that includes life suspensions for Meiyappan and Kundra and now they won't be involved in any cricket matches that will be conducted by BCCI.
Also Read: IPL 8 Opening Ceremony: Highlights and  Photos
In January,  the committee was constituted by Supreme Court t announce the charges of punishment against Meiyappan, Kundra and the two franchisees — India Cements Ltd, owner of CSK and Jaipur IPL, owner of Rajasthan Royals.
The scandal of IPL spot-fixing broke out in 2013 when the cricketers of Rajasthan Royals S Sreesanth, Ankit Chavan, and Ajit Chandila were arrested by Delhi Police for allegedly indulging  in betting and spot-fixing during that edition.
Along with Raj Kundra, Co-0wner of Rajasthan Royals, Miyappan was also arrested on charges of cheating, fraud, and forgery.
The three-member committee was also about whether they have whether they have contemplated action against IPL COO Sundar Raman, who was also accused of wrongdoing. The Justice Lodhawhile addressing the media said it will be some time before any action his taken against him as well.
"About Sundar Raman, we examined the material about him and we believe it requires further investigation. Vivek Priyadarshi has been appointed by the Supreme Court to look into it and he is examining the matter, we are awaiting his report. After that we will decide what will be the action," he said.
Also See IPL 2015: Official Schedule, Match Dates & Timings
The committee also revealed that it will give its observation related to another major conflict of interest in the BCI after interactions with various stakeholders is completed.
He said, "Conflict of interest questions have been raised, once we complete the process of interacting with all the stakeholders, we will take a view on that. That exercise is not complete. This order is confined to determining the quantum of punishment to the two individuals and the franchises"
"We have interacted with 40-45 people; we are yet to meet a few others. Once that is done we will decide what guidelines are to be given. Our idea is to get inputs from all stakeholders. It is not confined to cricket administrators and politicians," he added.
While revealing about the case details he refused to comment on criminal cases that are pending against suspended officials and said, "No aspect touching criminal liability has been decided by us."
Whether the two franchisees would be granted permission to participate in the case is still a question as there is a change in the ownership.
Read More: Bollywood Celebs and Their Love for Sports
Putting the light on the factor that whether the committee has taken into considerations the impact this ruling will have on the players of these franchisees. To which Justice Lodha said, "Players will not be attached to a franchisee which has been suspended. We thought that if cricket is bigger than individuals then the financial loss to players and franchises is not of significance."
Supreme Court formed a three-member committee in October 2013 in order to investigate the scandal. The panel comprises former High Court judge Mukul Mudgal, senior advocate and additional solicitor general L Nageshwar Rao and Assam Cricket Association member Nilay Dutta. The panel concluded that Mieyappan and Kundra both were involved in the fraud.
CSK official Gurunath Meiyappan suspended for life from involvement in any type of cricket matches: Justice Lodha

— TOI Sports News (@TOISportsNews) July 14, 2015
God bless Indian Judiciary for taking right, just & reasonable decision. But what about all those who were a part of these two Franchisees? — Rahul Mehra (@TheRahulMehra) July 14, 2015
CSK suspended. Meiyappan banned for life from cricket activities. Srinivasan continues as ICC chairman. But for how long? #IPLVerdict

— Jamie Alter (@jamie_alter) July 14, 2015
What do you think about spot fixing and betting becoming such a regular trend these days? Tell us in the comments below.