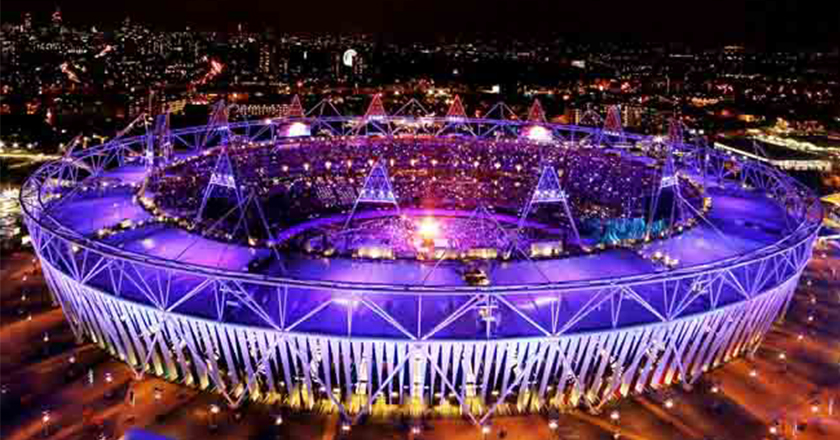 It may rain and pour, but when it comes to cricket, nothing can dampen the spirits of those of us in the subcontinent. Kolkatta, the 'City of Joy' was lit up thanks to the Indian Premiere League Opening Ceremony, which marks the start of the 8th season of the tournament.
Despite heavy rainfall, a dazzling Bollywood-style opening ceremony began after a one and a half hour delay at the decked-up Salt Lake stadium – Eden Gardens are stained purple after this event, I believe.
The event was a little subdued compared to the galas of the previous editions but the cine stars still managed to put up a show, enthralling the thousands of drenched fans who were glued to their seats.
While Bollywood heartthrob Hrithik Roshan stole the show with his electrifying dance performance, leading lady Anushka Sharma brought on a lot of panache with her performance.
The versatile Farhan Akhtar and Shahid Kapoor regaled the crowd, both performing to their respective numbers from movies such as Rock On and Kaminey.
Previously, Hrithik Roshan & Anuskha Sharma were clicked during their rehearsals.
See the night's proceedings in Tweets:
The #PepsiIPL Captains are ready for the Opening Nite. Are you ? (7:30 pm IST at Salt Lake stadium in Kolkata today) pic.twitter.com/VAH3n6ZoRC

— IndianPremierLeague (@IPL) April 7, 2015
Here is the latest picture from the Salt Lake Stadium, Kolkata. #PepsiIPL #OpeningNite pic.twitter.com/gAoVKMwhvs

— IndianPremierLeague (@IPL) April 7, 2015
Guys, it's still raining in Kolkata. Next update at 20:30 IST. #PepsiIPL #OpeningNite pic.twitter.com/4RM1uyLU7j

— IndianPremierLeague (@IPL) April 7, 2015
Good news, folks. The rain has cleared off. #PepsiIPL #OpeningNite is set to kick off. pic.twitter.com/tyOlNSxAzF

— IndianPremierLeague (@IPL) April 7, 2015
The #PepsiIPL captains pose with the prize they will play for. #OpeningNite pic.twitter.com/jEhelT6yhM

— IndianPremierLeague (@IPL) April 7, 2015
Here is Anushka Sharma sizzling the stage at #PepsiIPL #OpeningNite pic.twitter.com/hMXFkaW5Ya

— IndianPremierLeague (@IPL) April 7, 2015
The versatile Farhan Akhtar rocks on at #PepsiIPL #OpeningNite pic.twitter.com/bBvoLysiRW

— IndianPremierLeague (@IPL) April 7, 2015
Enter the super star. All rise for Hrithik Roshan. #PepsiIPL #OpeningNite pic.twitter.com/lpZhO4JDEI

— IndianPremierLeague (@IPL) April 7, 2015
Our show-stopper of the night caps off the #PepsiIPL #OpeningNite in style. pic.twitter.com/b8Q6Oz7v5w

— IndianPremierLeague (@IPL) April 7, 2015
VIDEO: #PepsiIPL Opening Nite : @iHrithik lights up Kolkata with an electric perfomance http://t.co/2RnhbH7Cy3

— IndianPremierLeague (@IPL) April 8, 2015
Watch all the video highlights from last night's #PepsiIPL Opening at http://t.co/ON5cvaHbH2 pic.twitter.com/z85BCy8Akb

— IndianPremierLeague (@IPL) April 8, 2015
Banged the bike broke the stage . Felt the love . Amaze. pic.twitter.com/PUe7777QhK

— Shahid Kapoor (@shahidkapoor) April 7, 2015