A recent survey by Antutu has categorized the Global Best Performing Smartphones of 2015 and the iPhone 6 Plus has topped the list as the best performing smartphone of the year.
Other smartphones in the list include the Huawei Mate 8, Samsung Galaxy Note 5, Samsung Galaxy S6Edge Plus, iPhone 6 Plus, Oneplus 2, Xiaomi Note Pro and the Google Nexus 6P.
Apple iPhone 6S vs. Samsung Galaxy S6 Edge – Specs & Features
Take a look at the chart of the top ten best performing smartphones here: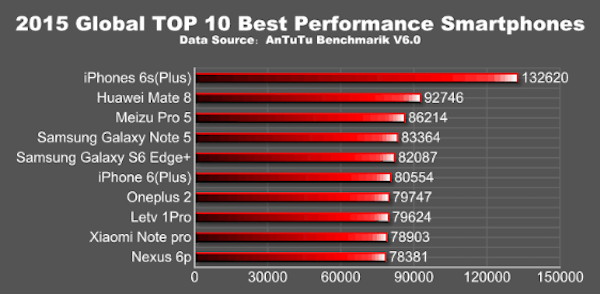 According to Antutu's performance benchmarks is based on the Company's own benchmark utility and comparison of smartphones from all walks of life.
The reason why the iPhone 6S Plus has topped the charts is that its A9 Processor is capable of putting up a very high performance. It is at present Apple's fastest performing iPhone ever. This particular smartphone boasts a higher performance ranking than any other by quite a high margin.
Previously Antutu's ranking of smartphones only covered Android smartphones but for 2015, it has created this cross-platform benchmark which provides a more comprehensive and directive ranking of smartphones.